Michael Brown Shooting: Pentagon's '1033' Scheme Gifts Ferguson Police 'War Zone' Supplies
As the unrest between protesters and police in the town of Ferguson gets compared to a "war zone" following the shooting of an unarmed black teenager, it has emerged the Pentagon has given the police department hundreds of millions of dollars' worth of military equipment down the years.
The Ferguson Police Department is part of a federal programme known as 1033, which distributes surplus military equipment such as armed vehicles and even grenade launchers to police forces, according to Michelle McCaskill, media relations chief at the Defense Logistics Agency.
The agency's website states that in 2013 alone, more than $449m (£269m) worth of equipment was given to police departments across the US.
Following the shooting of 18-year-old Michael Brown in the Missouri town, there have been days of protests. Police have even fired tear gas and rubber bullets at demonstrators in an attempt to control the unrest.
According to McCaskill, Ferguson last received military equipment in November as part of the programme's aim to increase force's "capabilities, expand its patrol coverage, reduce response times, and save the American taxpayer's investment".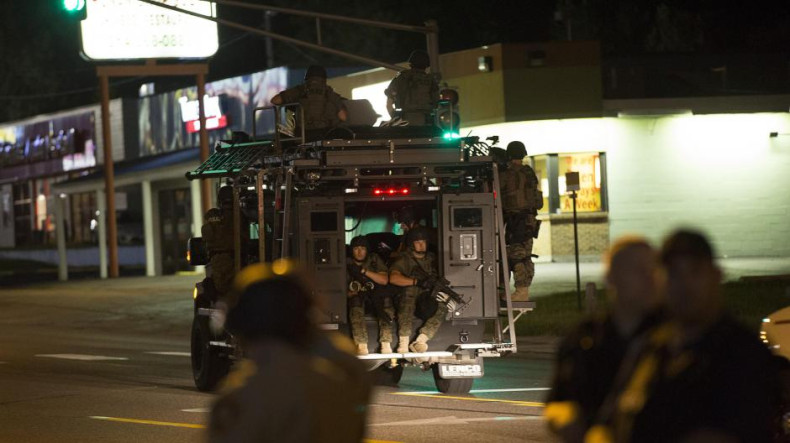 During the unrest, photos have emerged of police in camouflage gear riding in what appears to be a Mine-Resistant Ambush Protected (MRAP) vehicle, similar to those used in Iraq and Afghanistan.
However, according to Mike O'Connell, communications director for the Missouri Department of Public Safety, the town of Ferguson did not acquire any MRAP's through 1033. He told Newsweek if the photo does suggest the armed vehicles are being used to control crowds in Ferguson, he "does not know where they came from".
According to USA Today, police forces in Ferguson's state of Missouri received advanced rifle sights and night vision equipment between 2012 and 2014.
Missouri's Department of Public Safety also report other forces in the state have obtained "aircraft (both fixed wing and rotary) and four-wheel drive vehicles" such as armoured personnel carriers with the 1033 programme.
The Atlanta Journal-Constitution reported in 2013 that police in the small town of Bloomington, Georgia, also aquired four grenade launchers through the programme in order to fire tear gas or bean bags in an attempt to ease unrest.
"Having the equipment precludes having to use it," said Bloomingdale Police Chief Roy Pike, "In the 20 years I've been here, we haven't had to use deadly force against anybody."
According to Radley Balko, author of Rise of the Warrior Cop, arming civilian police with military equipment is part of a "larger trend".
"That is a willingness or a policy among domestic police in the United States of using more force more often for increasingly petty offenses," he told NBC.