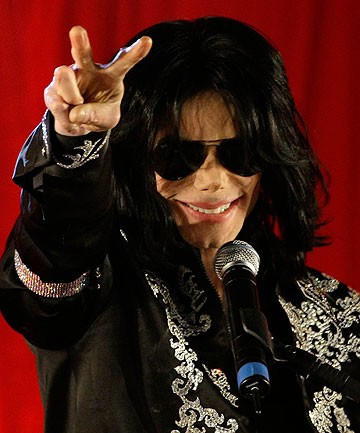 The Telegraph reports that Dr. Conrad Murray's lawyers have accused deceased American musical icon Michael Jackson of being under the influence of alcohol, and delaying the start of the press conference announcing the commencement of the artist's "This Is It" tour in London by 90 minutes.
The 58-year-old Dr Murray, who is a Houston-based cardiologist, was employed by Michael Jackson six weeks before he died, and was working as his personal doctor while the artist was rehearsing for his 50-night comeback tour. The doctor is due to go on trial, facing a charge of involuntary manslaughter, in the matter.
The doctor's legal team claims to be in possession of a video taken offstage at the news conference in March 2009, where Jackson was believed to be noticeably under the influence of alcohol. The team offered to show the tape to the jurors. However, the judge has apparently banned the footage from being shown in court, considering it inappropriate and irrelevant since the incident happened months before the artist's tragic death.
The prosecution contends that Dr. Murray was careless in administering a dose of Propofol (an intravenously administered hypnotic agent) to Jackson, while at his residence in Los Angeles, without the required life-saving equipment at hand. In addition, the prosecutors believe that the doctor then left the room and came back to find his patient not breathing.
However, defense lawyers claim that Jackson, who was desperate to go to sleep, self-administered the extra dose, while his physician was absent from the room. In fact, Dr. Murray had earlier told police that he had been trying to wean Jackson off Propofol and only gave him a minimal dosage before leaving him to use the rest room.
Dr. Murray has entered a plea of Not Guilty. However, if found guilty, he could face a four-year jail sentence.