The British media love a knee-jerk reaction. To herald a triumphant hero, only to knock him or her down in one fell swoop; see David Beckham, George Michael or Jade Goody for details.
If you're Michael Laudrup, the first Swansea City manager to guide the club to a major cup final in their history, you're waiting for your St Etienne 98, Berverly Hills public toilet 98, Big Brother 2007/08 moment, because after seven months at the Liberty Stadium, things can only go downhill for the Dane.
Many felt Laudrup would struggle, not only to replicate the style of football tailor-made for Swansea's talented but talisman lacking squad, but also to replace those players who followed Brendan Rodgers out of the exit door.
Joe Allen and Scott Sinclair were sold to Liverpool and Manchester City respectively, while Steven Caulker, whose reputation as one of England's finest young defenders was enhanced with his first cap against Sweden last November, returned to Tottenham Hotspur.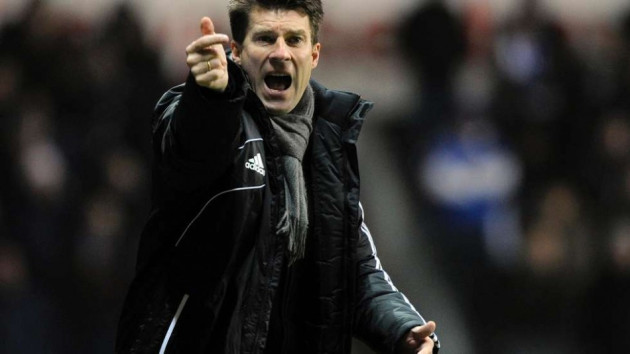 Replacements came in the form of relative unknown quantities; Chico Flores from Genoa, Michu from Rayo Vallecano, Ki Sung-Yueng from Celtic and Pablo Hernandez from Valencia. Early results suggested Laudrup was struggling to fuse together Rodgers' reign with the new breed as two opening wins were followed by seven points from the next 24 available.
However, the home draws with Chelsea and Manchester United sandwiched a win at Arsenal combined with a style of football including the impressive new additions, showed that Rodgers' legacy could be built upon.
And in knocking Chelsea out of the League Cup, Laudrup has propelled himself to a level approaching legendary, with the club's first ever major cup final appearance assured after two legs which have defined everything about the new Swansea. Shelved is their slightly laborious possession game from last season; in comes a style with cut, thrust and regular penetration.
The success of Laudrup's job has been two fold. First re-building half a team which had been unified in promotion from The Championship under one of Britain's finest coach-come managers, and second producing a style of football which many in the Premier League and across Europe would gulp at.
So back to the media's instinctive traits. Already Laudrup has been heralded by some as a potential replacement for Rafa Benitez at Chelsea, and even Sir Alex Ferguson at Manchester United.
The 48 year old has indeed produced magic during his first seven months in English football, but you wonder what the true motivation is of links with two of the Europe's biggest club sides? You suspect if his gargantuan reputation as a player is now affecting the clarity at which the British media now portray him and way his success is received. After half a season, few rookie managers in England, especially given previous career hiccups like Laudrup had endured, would be praised to such an extent.
Jonathan de Guzman in an interview earlier this month confessed that Laudrup was better than any of the Swansea squad, while fellow journalists have spoken of being mesmerized by the former Barcelona man simply in press conferences.
Of course, Rodgers was given the Liverpool job after 12 months in the Premier League, but last season was the culmination of a journey at Swansea; Laudrup cannot profess to have the same credentials after four indifferent spells across Europe.
The groundwork has certainly been laid for a successful spell in England's top flight, but talk of moves to any of the division's leading lights is slightly premature. Unless he fancies being strung up.