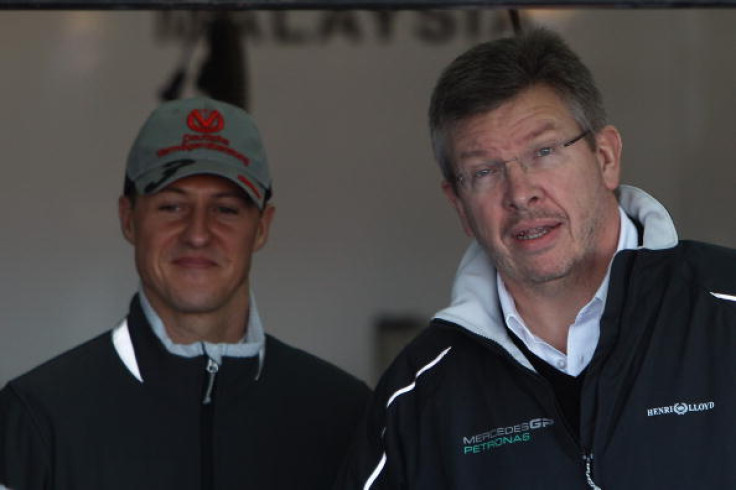 Ross Brawn has credited Michael Schumacher for helping lay the foundation for Mercedes' recent dominance in Formula One.
The seven-time world champion came out of retirement in 2010 to join Mercedes, who reentered the sport as a works team after buying 2009 reigning champions Brawn Racing. Schumacher raced with the Silver Arrows team for two seasons before calling time on his racing career, but the former Ferrari boss believes the German's winning mentality and ability to bring a team together is what is helping them reap the benefits.
Lewis Hamilton has picked up two drivers' titles, while Mercedes teammate Nico Rosberg won his first title in 2016. The team has also won the constructors' title for the last three seasons. Brawn, who was the team principal for three years until 2013 believes the German driver's influence is still felt in F1.
"Michael, for sure, contributed to the organization and structure that has gone on to achieve success at Mercedes," Brawn, who was one of the main forces behind Schumacher's seven world titles with Benetton and Ferrari, told CNN.
"He helped create the success we had at Ferrari and he continued that approach at Mercedes."
"With his knowledge and maturity, sitting with a group of aerodynamicists or vehicle dynamists or tire people and explaining what was needed was invaluable. He was instrumental in creating the systems that contribute to the success that Mercedes has today," the former F1 team owner added.
Schumacher is currently recovering from head injuries sustained during a skiing accident on 29 December 2013. The f1 legend's family recently launched the 'Keep Fighting' initiative to bring together all the people who have been inspired by the 'career and character' of Schumacher.