Michelle Obama joins Hillary Clinton in election battleground as campaign heats up
Clinton was basking in the popularity of the first lady in the pivotal swing state of North Carolina.
For the first time, First Lady Michelle Obama and Democratic presidential candidate Hillary Clinton were seen together at this election campaign as Americans get set to cast ballot on 8 November.
The two were reportedly seen admiring each other, with Obama calling Clinton "my girl", while the latter praised the first lady and called her "amazing". The Democrat was basking in the popularity of Obama in the pivotal swing state of North Carolina, where early voting showed some positive signs for the former first lady.
Hitting the campaign train on Thursday (27 October), Obama had the last word at the rally, which was attended by 11,000 roaring fans at Wake Forest University.
"There are some folks out there who are commenting that it is unprecedented for a sitting first lady to be so actively engaged in a presidential campaign, and that may be true," said Obama, putting their past rivalry to rest.
"Hillary's mini tribute to me has taken me off – kind of, thrown me a little," said the first lady, who began the popular political surrogate for the Clinton campaign. She then said: "If people wonder: Yes, Hillary Clinton is my friend. I'm grateful for Hillary for her leadership, for her courage and for what she is going to do for this country."
On her part, Clinton listed a string of personal and professional qualities which she admires in Obama. The Democratic candidate is in the final stretch of the campaign and most polls indicate that she is leading against rival Donald Trump by several points across the US.
"First ladies, we rock," declared Clinton receiving a jubilant approval from the crowd. "Seriously, is there anyone more inspiring than Michelle Obama," asked the presidential contender.
The Clinton campaign has been deploying Obama extensively for the past few weeks especially in the crucial swing states to drum up support for the 69-year-old. The two first ladies were once viewed as unlikely political rivals, but eventually united to take on the Republican candidate.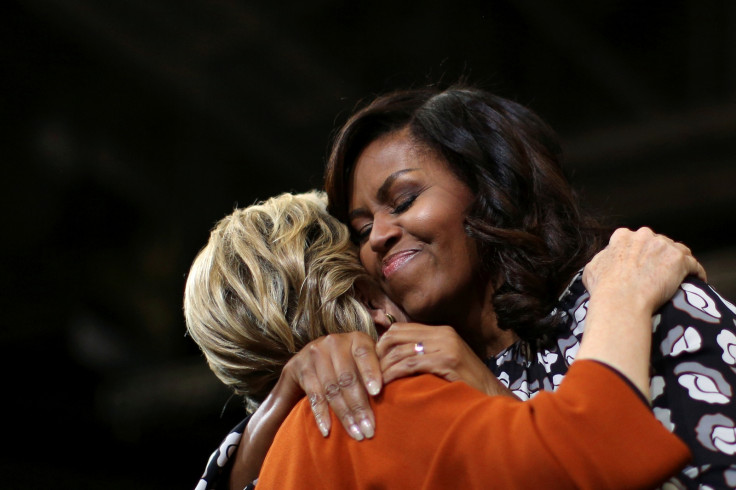 © Copyright IBTimes 2023. All rights reserved.