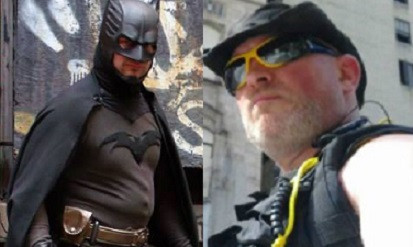 A dispute between two men over who leads a band of real-life superheroes in Michigan looks set to split the crimefighting group in two.
Mark Williams - also known as his alter ego Petoskey Batman, who dresses up as the Dark Knight to patrol the streets north Michigan community - and Adam Besso, AKA Bee Sting, were once friends who protected the streets of Detroit but have now become arch-nemeses.
The pair are involved in a bitter feud involving death threats, fraud allegations and adultery which could tear the superheroes group known as the Michigan Protectors apart.
"He is an abusive, neglectful, thieving, boastful, cowardly crook," Williams told Detroit News. "He belongs in jail and I will see him there."
"He has to tear others down to feel better about himself," Besso responded. "He's like Lord of the Flies with a slightly better version of dirt bags."
The pair became friends in 2011 after Williams, dressed in full Batman outfit, was charged with disturbing the police after he was found on the roof of a hardware store after been chased by a group of men while on patrol.
Soon after, Besso's alias Bee Sting invited Williams to join his band of superheroes, whose members also include the Redd Jacket and The Animal.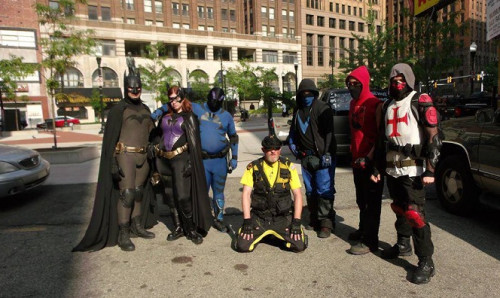 Besso was also involved in legal trouble in 2012. While on patrol armed with a 12-inch shotgun, he got into an argument with a resident who was revving his motorcycle after midnight. During the scuffle, the weapon fell to the ground and discharged. No one was injured during the incident.
After serving 102 days in jail for attempted assault, Besso was heavily criticised for bringing an gun on patrol by the other superheroes, but Williams stood by him.
"We were brothers," Williams said. "I loved him as much as I love my own blood family."
However, upon his release, Besso took it upon himself to act as a new leader de facto, disillusioning some members of the group. When it was suggested Williams became co-leader by some of the other superheroes, the pair began to fall out.
Williams told Besso's pregnant fiancé Mandy Wilson that he had been cheating on her. Incensed, Wilson told Willaims that Besso had been driving without a licesne, a violation of his probation following his 2012 assault charge.
She also informed Williams Besso had been using her social benefits card to buy food for the homeless – an act which amount to welfare fraud as the cardholder is allowed to use the card and the food can't go to a third party, according to the Department of Human Services.
Williams also wrote on Besso's Facebook wall accusing him of buying Christmas presents for another woman's children instead of his own.
One of Williams' friends then offered to speak to people who could "take [Besso] out back and shoot him," as the fall out escalated. Chandra Miller then changed her mind about he threat after speaking to Besso.
"It drives me insane," Williams said. "I will scream from the rooftops until Bee Sting is shown for what he truly is."
Williams, as the Petoskey Batman, is reported to be giving an update to the fued to local media.