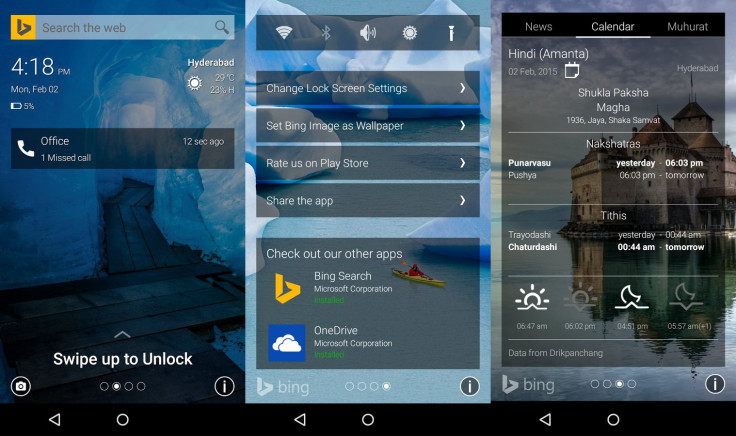 Microsoft has given Android smartphone users the means to place its Bing images on the lock screen, as well as view information and search without unlocking the phone.
The Redmond-based company has released a new app called the Picturesque lock screen which lets users set Bing home page images on their Android lock screen.
The app allows Android users to easily change the image (from the Bing homepage of the past six days) with just a shake of the phone or by swiping to the right.
The Picturesque lock screen app is available for free download, via the Google Play app repository, for Android 4.0.3 and above, and comes with a host of features:
Bing Homepage images: Users' Android lock screen will be updated dynamically with the daily Bing image. Users could swipe through the images of the past six days and also change the image by shaking the phone.
Search on the lock screen: Users can search for anything on the web directly from the lock screen and read all the linked pages without having to unlock the phone.
Latest news: All the latest news headlines and full articles are displayed, straight on the lock screen.
Weather: Current weather conditions are displayed, along with the detailed weather forecast for the entire week.
Notifications on Screen: The Picturesque lock screen displays all missed calls and messages, thereby allowing users to call/reply from the notification on the home screen itself.
Camera & Phone controls: The phone camera can be accessed from the lock screen itself. Users can also change Wi-Fi, Bluetooth, brightness and volume settings, right from the lock screen.
The Picturesque lock screen is an initiative of Microsoft's Garage project.