Pope Francis has arrived in Lesbos, the Greek island at the heart of the refugee crisis, to bear witness to "the worst humanitarian disaster since the Second World War". The Catholic leader was welcomed by Prime Minister Alexis Tsipras and the Archbishop of Athens Ieronimos II for the historic trip.
The pope's visit comes after the implementation of the controversial EU-Turkey deal, under which new arrivals are being sent back to Turkey in a bid to stem the flow of people into Europe. Pope Francis will visit a detention camp holding 3,000 men, women and children above the village of Moria and is also set to address asylum seekers. He will also join eight refugees for lunch.
Speaking to reporters on his journey to Lesbos, the pope said: "This is a voyage marked by sadness…We will witness the worst humanitarian disaster since the Seccond World War.
"We will see so many people who are suffering, who are fleeing and do not know where to go. And we are also going to a cemetery, the sea. So many people never arrived."
Greece has been at the centre of the refugee crisis after receiving more than 850,000 of the 1.1m Afghans, Iraqis and Syrians arriving into Europe last year. Speaking to Pope Francis shortly after he touched down, Greece's prime minister Alexis Tsipras said: "I am proud of this, particularly at a time when some of our partners – even in the name of Christian Europe – were erecting walls and fences to prevent defenseless people from seeking a better life.That is why I consider that your visit is historic and important."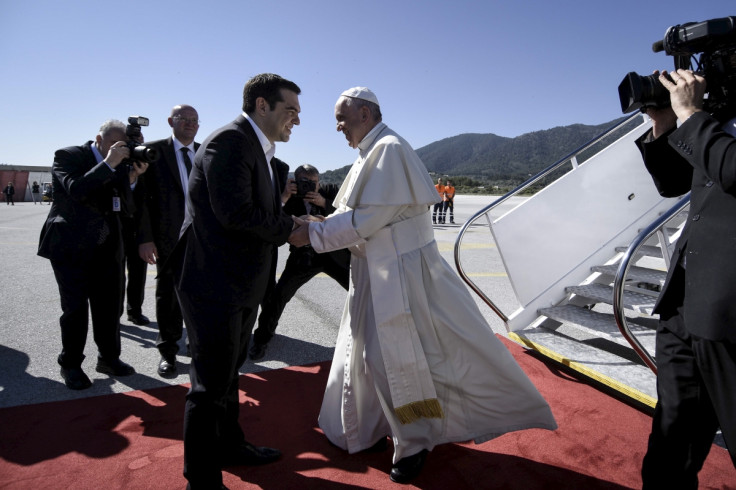 Refugees as 'merchandise'
Despite the Vatican's insistence that the visit is purely humanitarian and religious, Cardinal Antonio Maria Veglio said the EU-Turkey deal amounts to people being treated as merchandise and strips human beings of their dignity.
"The Pope's visit comes at a pivotal moment: right as Europe is gearing up to send thousands of refugees back to Turkey, locking them up in the meantime in horrible conditions," said Amnesty International's Europe director, Gauri van Gulik. "These are people who fled the horrors of Islamic State, the Taliban, bombings in Syria and more. They deserve Europe's protection and care, and hopefully the Pope can shed light on their plight."
Greece – whose economy is not expected to grow in 2016 – has repeatedly asked its European partners for help in dealing with the influx of migrants and refugees. In a joint declaration earlier this week, Tsipras and his Portuguese counterpart, Antonio Costa said "the building of walls and fences, the unilateral and uncoordinated implementation of measures or the unwillingness to participate in commonly agreed actions, such as the resettlement and relocation schemes, undermine European solidarity as well as the humane and effective management of migrant flows".