Migrant crisis: Why Sweden's plan to repatriate 80,000 is more easily said than done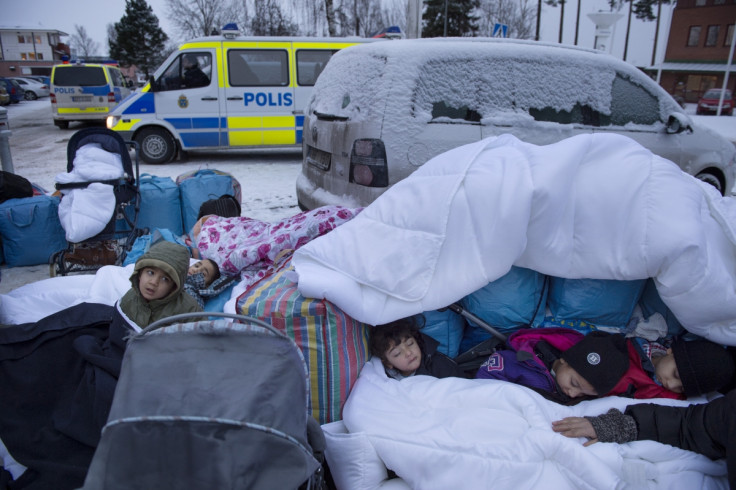 Sweden signalled a dramatic change of tack in immigration policy announcing plans to expel up to 80,000 failed asylum applicants in a move that experts warned is easier said than done. Interior minister Anders Ygeman said police and migration authorities will step up efforts to repatriate unsuccessful asylum-seekers by strengthening controls and arranging potentially hundreds of charter flights.
In 2015, Sweden received almost 163,000 asylum applications and processed more than 58,000, turning down 45% of them. At the current rate Ygeman said the country will be faced with an unprecedented volume of people to be deported in 2016.
"I think that it could be about 60,000 people, but it could also be up to 80,000," the minister told the daily Dagens Industri. Priority will be placed on enhancing voluntarily, Ygeman added, but that could not suffice. "If that doesn't work, we will need to have returns backed up by force," he said. "I think we will see more chartered planes."
The viability of the plan has been however questioned by analysts. More than 200 people a day would have to be sent back if it were to be implemented in one calendar year. "It will of course depend on how much effort and how much money and personnel is directed towards completing this task," Rebecca Stern a senior lecturer of international law at Sweden's Uppsala university told IBTimes UK. "There will also be practical obstacles".
First, Sweden will have to return people to more than 100 different states as an incredibly diversified group of applicants filed for asylum last year. Syrians, Iraqis and Afghanis were by large the most represented nationalities but by no means the only ones.
13 US citizens, 3 Argentinians, 2 Brazilians, 15 Chileans, 3 French and 2 Italians were also among the rejected applicants' ranks last year, according to official figures. Furthermore, some governments have been resilient in taking back their nationals. According to Dagens Industri, Stockholm is negotiating return agreements with Morocco and Afghanistan.
Difficulties might arise even when the country of destination is another EU member. Under the bloc's regulations, would-be-refugees have to file for asylum in the first country of entry, which in most cases is Italy or Greece, and shall be returned there if they move somewhere else.
In 2015 Sweden turned down more than 10% of requests because of this rule. However Sweden has not been deporting asylum-seekers back to Greece for a few years, due to an European Court of Human Rights ruling (MSS v. Belgium and Greece), which found reception conditions in the Mediterranean country to be too poor.
Finally, facing expulsion many illegal migrants might go into hiding, although Ygeman said the government will increase policing and tighten penalties for businesses hiring irregular workers.
Even though deporting 80,000 people hides many challenges, the announcement does mark a shift in attitude by Stockholm, which analysts expect is to be followed through in an attempt to unclog the country's overwhelmed reception capability as well as make it less attractive to possible newcomers.
"It is a way of telling asylums seekers that are already in Sweden and those who are aiming to come that we will actually go through with returns on a much higher level than what we have done before," Stern noted. "Like many other European countries we are trying to make coming here appear more unpleasant."
The development come as the growing influx of migrants has caused some tensions in the traditionally welcoming country, which witnessed a spike in arson attacks on refugee homes last year.
It follows a controversy sparked by revelations in the wake of mass sexual attacks in Germany on New Year's Eve that Swedish police had failed to make public a similar incident involving numerous sexual assaults, often perpetrated by migrant youths, at a music festival in Stockholm last year.
© Copyright IBTimes 2023. All rights reserved.