Swedish Prime Minister Stefan Löfven has spoken of his fury on learning about sex attacks carried out on women in the country, though he did not blame the attacks on migrants. He was speaking as the backlash about the sex attacks in Germany on New Year's Eve was followed by revelations that Swedish police had "covered up" similar incidents at rock festivals in the country.
"If assaults occur, society has to stand with the victims," Löfven told law-makers. "I felt a great anger as I learned about the reports from both Cologne and Stockholm. Those guilty must be punished."
Löfven was speaking as police charged a 15-year-old boy with assault and sexual assault at a rock festival in Stockholm. Thirty-eight claims of rape and other serious sex assault were reported following the festivals, in 2014 and 2015, amid claims police appeared to "cover up" the fact they were committed by youths from Afghanistan. The number of rapes reported across the country has rocketed in recent years, with some groups blaming this on on the influx of migrants.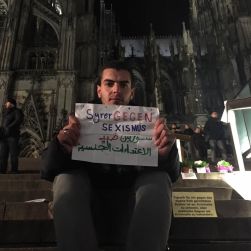 On New Year's Eve a number of women complained about being assaulted by Afghan youths in the Swedish city of Malmö. On being asked about the ethnicity of suspects by anti-immigration opposition parties Löfven appeared to side-step the issue, saying only: "Whatever the motive we have to work more with attitudes among young men. It's never OK to grope or harass women."
Protests have continued in Germany as the scale of the New Year attacks in Cologne and other cities becomes apparent. Rioting broke out In Leipzig following demonstrations by groups opposed to the "Islamification" of Germany including local PEGIDA group, LEGIDA. Police in Finland also revealed they had learned of plans by migrants to sexually assault women in Helsinki. Similar incidents have been reported in Austria and Switzerland.