Cologne sex attacks: Who are the vigilante 'rockers, hooligans and bouncers' hunting migrants on city's streets?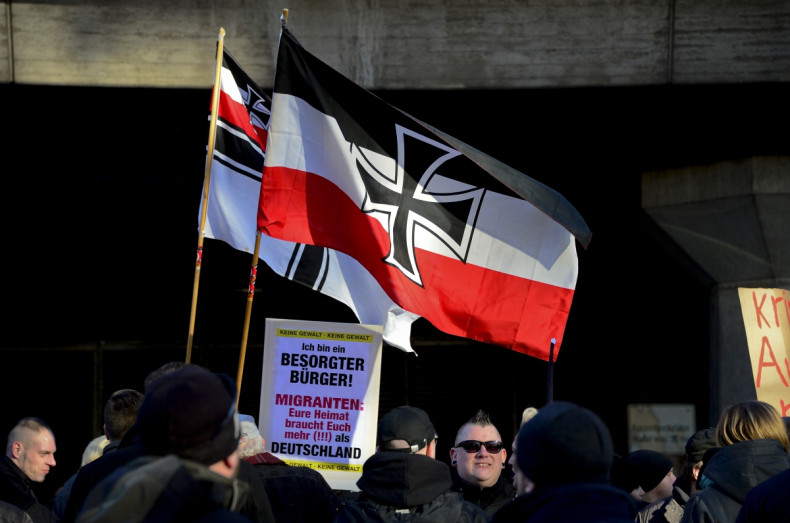 The vigilantes who took to the streets of Cologne on Sunday night (10 January) are a loosely-knit association of football thugs and right-wing extremists, unified by their opposition to radical Islam and immigration.
The local Express newspaper reported that a group calling themselves the Rockers, Hooligans and Bouncers arranged on a non-public Facebook page to take to the streets of Cologne on a 'manhunt', following the mass sexual assaults committed by men of North African and Arab appearance on New Year's Eve.
The group declared its aim "to clean up properly", with police increasing their presence in response.
Six Pakistani men and a Syrian were injured in attacks that night, which police have not yet ascribed a motive for. The newspaper reports that by 9pm, the groups had dispersed to nearby pubs, but officers maintained a heavy presence.
Patrick Fels, who charts the far-right at the NSDOK institute in Cologne told IBTimes UK that in recent years a dangerous alliance has emerged between far-right groups, including the anti-Islam Pegida movement, and local groups of football hooligans and 'rockers', whom loosely style themselves on US biker gangs.
"Previously hooligans would fight other hooligans from opposing teams, but since the first Pegida activities in 2014 we see that many of these people are beginning to join political demonstrations and be more active there," he tells me.
In 2014, Germany's Spiegel website reported the growing alliance of hooligans and the far-right, who adopted the name Hooligans Against Salafists, hoping to gain widespread support as a bulwark against Islamic extremism.
Matters came to a head in Cologne in late 2014, when mass protests by hooligans and Pegida supporters in Cologne turned violent. However thousands rallied in counter demonstrations against the group, with anti-fascists outnumbering hooligans and Pegida supporters in demonstrations by the turn of the year. In January 2015, church authorities turned off the lights of Cologne cathedral in protest at the presence of Pegida in the city.
However following the New Year's Eve attacks the group has renewed attempts to gain a foothold in the city. On Saturday 9 January, a Pegida protest in the square where the mass New Year's Eve attacks took place attracted more than a thousand supporters, and was broken up by police using water canons when it became violent.
Fels said that the emerging far right "is a subculture where people know each other and it is pretty easy to spread it to other cities," with hooligan groups using the internet to rally support, and spread propaganda across Germany. Vigilante groups have also emerged in nearby Dusseldorf in response to the New Year's Eve attacks, with thousands declaring support on Facebook for the Dusseldorf Is Watching Group after it emerged in the first week of January.
With police accused of covering up the Cologne attacks, and opposition politicians arguing that German chancellor Angela Merkel has placed Germans in danger with her open door refugee policy, Fels warned that the alliance of football hooligans and the anti-Muslim far-right will continue to peddle their own brand of violent street justice online and on the streets of German cities.
"You just have to make a post online and other people will read it and share it," he said.