Migrants and refugees are rushing to enter Hungary before new emergency immigration laws come into force on Tuesday (15 September). The country's right-wing leader has promised to clamp down on illegal border crossings and said that any "rebellious" migrants would be arrested.
More than 190,000 migrants have crossed into Hungary from Serbia so far this year. The number of people making the crossing has increased every day ahead of the new laws. On Thursday (10 September) police captured a record 3,601 migrants on the border; on Saturday they caught more than 5,000. This record was broken again on Sunday. Laszlo Balazs, head of border police, said: "The police caught 5,809 persons. He added that by 08:00 local time on Monday (14 September) police had taken action against 3,280 people. Unicef has warned that millions more refugees could arrive in Europe if Syria's civil war continues to rage.
This IBTimesUK report on the migrants in Hungary is illustrated with powerful pictures by Getty Images photographer Christopher Furlong.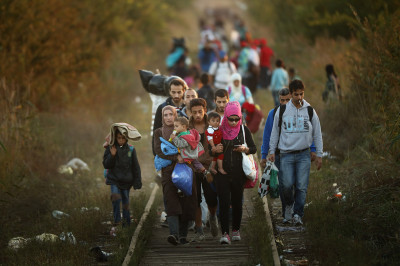 Under the new laws, asylum requests will be processed at the border; those who apply will be transported to camps elsewhere in the country. Those who refuse to cooperate will be kept at the border, and those who break through the razor wire fence along the 175-kilometre border with Serbia will face arrest and a possible three-year jail term. The government has said it will probably send in the army to assist processing migrants at the border and to operate detention facilities in camps.
Gangs of prisoners are working to finish the 3.5-metre barrier stretching 175 kilometres along the Hungarian-Serbian frontier. Until it is completed, migrants are easily able to crawl or climb over a much lower temporary barbed-wire fence. Soldiers have been deployed to this major crossing point. For now they just watch as the refugees pass, but once the laws come into effect there could be a very different picture.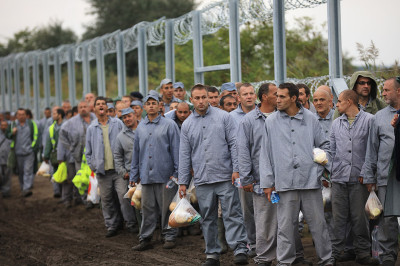 A railway line at the Hungarian border is the sole part of the border not covered by the barbed-wire fence. Taking the tracks means a longer but a safer route that does not involve paying hefty fees to smugglers to spirit them across the border in trucks and vans in the dark. Still, it also almost certainly means ending up in the hands of Hungarian authorities.
Those fleeing their homelands in the Middle East have been following these railway tracks through Turkey, Greece, Macedonia and Serbia. These are the same tracks that once carried the legendary Orient Express that used to connect Europe with Turkey and on to the Middle East.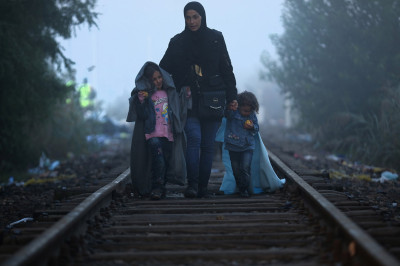 Refugees stranded at the border have waited days to be registered, while conditions at makeshift frontier camps which were already basic are deteriorating. Upon entering Hungary they are taken to a holding area, a collection of tents pitched on increasingly muddy, rubbish-strewn ground as bad weather takes its toll on the terrain. They then wait to board buses to take them to transit camps in other parts of the country, from where most hope to continue their journey towards western Europe.
A tent city has popped up in the muddy field. Doctors treat hundreds of patients every day, dressing wounds suffered by refugees on their long journey or tending to injuries they sustained in their country of origin. Other tents offer food, water, tea and coffee. Many of the volunteers are locals, rallying to support the refugees and to send a more welcoming message than their government.
The Associated Press (AP) reported that the refugees and migrants say the worst experiences of their journey have all come in Hungary, where farmers hiss at them in disapproval and billboards warn the newcomers to respect the country's laws and culture – in Hungarian. Hungarian police have launched an investigation after a video posted online showed a crowd of people clamouring for food in a hangar at a reception centre as police in surgical masks threw food at them. The description of the footage said it was filmed at the camp in Roszke.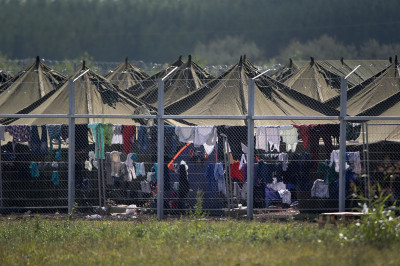 A recent opinion poll sponsored by the Budapest think tank Republikon found that just 19% believe Hungary has a duty to take in refugees, while 66% deem them a threat and should not be let in. The findings reflect a country where ethnic minorities barely exist outside Budapest and right-wing beliefs dominate in small towns that strongly support the ultranationalist Jobbik party. Described by many (but not themselves) as neo-Nazi, Jobbik is Hungary's third largest party in the National Assembly. It regularly attacks Orban's Fidesz party for being too soft on immigrants and minorities, including gypsies, gays, and Jews.
Jobbik activists sometimes go to the Serbian border and shout abuse in the face of startled asylum seekers. Last week, a camerawoman for a Jobbik-linked web TV channel took the hostility a step further. Journalists filming scuffles between police and migrants captured Petra Laszlo on video as she kicked a young man and a teenage girl in the knees and tripped a running man carrying a young boy. Her station fired her after the video appeared on social media.
Hungary's treatment of refugees and migrants was likened to Nazi deportations during the Holocaust by Austria's chancellor. In an interview with Der Spiegel, Chancellor of Austria Werner Faymann said: "Sticking refugees in trains and sending them somewhere completely different to where they think they're going reminds us of the darkest chapter of our continent's history." He was referring to an incident on 3 September when migrants boarded a train in Budapest in the belief that they were heading to the border with Austria, but were taken just 35km west of the capital to the town of Bicske, where Hungary has a camp for asylum seekers. Hungary dismissed Faymann's comments as "utterly unworthy of a 21st century European leader" and summoned Austria's ambassador.
An analyst at the Centre for Fair Political Analysis told AP that Hungary was no more racist or xenophobic than other parts of Eastern Europe; it just has little experience with refugees. "It's a gut response to fear the unknown," Julia Lakatos said. "My personal experience is that people are really frustrated, there have been hard times in Hungary, and they are searching for a scapegoat. But anyone who came into contact with the refugees, that experience changed their minds. Personal experience overrides fears."