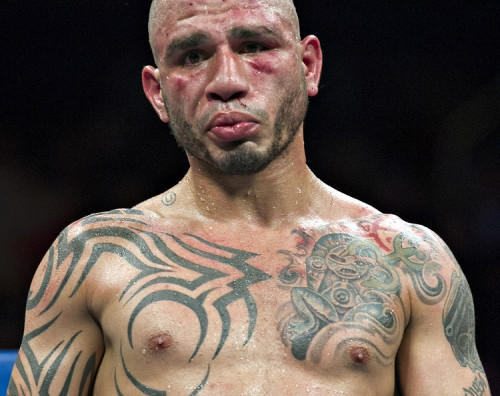 Puerto Rico has contributed disproportionately to boxing's history with a roster of sterling fighters.
Its most stylish boxers: Wilfredo Benitez and Hector Camacho were blessed with feline reflexes and mesmerising defence.
Search and destroy fighters like Wilfredo Gomez and Felix Trinidad were precocious punchers and merciless finishers.
The contemporary name which will join them when he is finished is Miguel Cotto.
This 33 year old has blazed a trail of destruction through the boxing world for the past decade and bridges the divide between the puncher and technician.
While Cotto is not the best fighter of his generation (38-4, 31 KOs), he still has fought and lost to them in spirited performances.
Cotto was beaten to a pulp by Manny Pacquiao in 2009 and was later out boxed by Floyd Mayweather Jr in a more competitive bout than expected in 2012.
Aside from these two losses, Cotto was also beaten by Mexican hard man Antonio Margarito in 2008 and lost a decision to Austin Trout in 2012.
However, it would be wrong to define Cotto by just his losses as he has achieved a number of memorable victories against excellent opposition that includes Zab Judah, Sugar Shane Mosley and Carlos Quintana.
He has won titles in three weight classes and amassed a dedicated fans base that is centred in the venue that he has stamped his name on: Madison Square Garden in New York City.
Cotto's Curtain Call?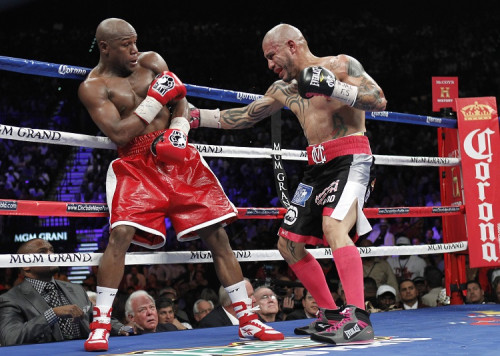 Unfortunately, Cotto's reign of terror that has faded for the last couple of years will most probably come to an end in 2014 as he looks to exit the limelight through a series of potential super fights.
While these will earn him a lot of money, maintain his profile and have a chance of realisation, Cotto's health will not be the better for it.
It is because of Cotto's warrior mentality, refusal to quit and style of aggressive fighting combined with the sort of opponents he could face that could ruin him.
Cotto's strengths as a boxer: magnificent body punching, vicious inside fighting, measured yet suffocating pressure and a potent jab are the tools of a young fighter and not an ageing one.
Two of his potential adversaries in 2014 are made from the same blend of qualities which defined Cotto in his impressive yet fleeting prime.
They are also younger and have less mileage on the clock.
Cotto's Three Stooges?
Cotto looks to fight on the June 7 at Madison Square Garden.
He last fought in October 2013 where he steamrolled Delvin Rodriguez in his first bout under new trainer Freddie Roach.
A fight against Sergio Martinez (51-2-2, 28 KOs), an Argentinian southpaw and middleweight champion, is attractive to Cotto in a number of ways.
Martinez hasn't fought since last April, when he was lucky to sneak past Martin Murray at home in Argentina, will turn 39 in February and if Cotto beats him, he will become the first Puerto Rican fighter to have won a world title at four different weights.
A narrative has built up around Martinez that he is living on borrowed time, though there a view that the time he has taken off to heal from injuries could rejuvenate him.
Cotto does not fare well against southpaws with a reach advantage, accurate punching and hand speed.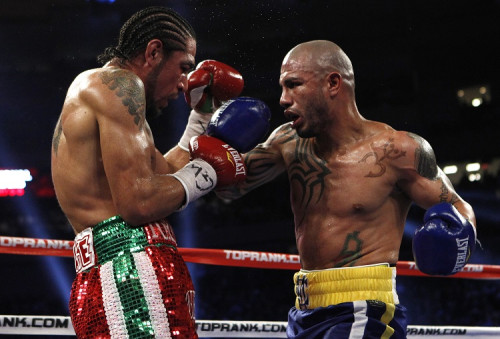 It would appear that this fight is going to happen and if Martinez, the naturally bigger man is in shape and if Cotto cannot impose himself early, the direction of the fight could go the wrong way for the Puerto Rican.
Meanwhile, the 23 year old Mexican puncher Saul Canelo Alvarez could be another option for Cotto but he will be facing Alfredo Angulo on March 8 on Showtime pay-per-view.
Alvarez is coming back from his first loss to Mayweather in September 2013 and has record of (41-1-1, 30 KOs) and is a light middleweight, which is the division Cotto has fought since 2010.
The matchup would be a promotional bonanza as it would fit into the storied history of Puerto Rican vs Mexican rivalries.
Cotto could use his underrated boxing skills via his underappreciated footwork, mobility and jab to frustrate Alvarez and break him down.
However, Cotto's punch resistance and stamina as he ages would be dramatically questioned if he takes a power punch from Alvarez.
Similarly, it is unlikely Cotto would try to outbox Alvarez as he is too proud and action orientated to avoid a war.
The final opponent for Cotto that has been floated is another middleweight and he is the fearsome Kazakh Gennady Golovkin.
Golovkin is simply his generations Mike Tyson. He is the World Boxing Association middleweight champion with an 89% knockout percentage rate.
He holds the greatest KO ratio in middleweight championship history and is first amongst amongst all active current and former champions, and third in overall championship history.
He also has brilliant footwork, cuts off the ring, dominates opponents and is undefeated (28-0-0, 25 KOs).
Cotto should not fight Golovkin and avoid him at all costs.
While Cotto has a youth advantage in the matchup with Martinez and could use his jab to frustrate Canelo, he holds no advantages against Golovkin.
Still I feel that whatever matchup Cotto takes and whether he wins, loses or draws, he will probably be carried out on his shield after pushing himself to the limit of what he can endure.