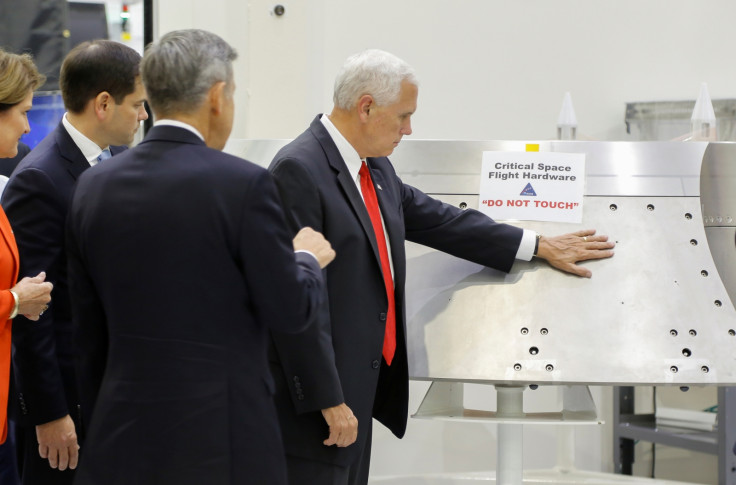 Mike Pence surprised the internet when he showed a 'devil may care' attitude for the rules during a visit to the Kennedy Space Center on 6 July, Thursday. The do-it-by-the-book US vice president ignored a large 'Do Not Touch' sign on a piece of critical space flight hardware and decided to place his hand on it.
The moment was caught on camera and turned into an instant Twitter sensation with memes galore.
What came as an equally big surprise was the VP's response to all the social media attention. "Sorry @NASA... @MarcoRubio dared me to do it!" Pence joked and later shared a meme of him petting a porcupine. Okay...so this isn't exactly the first time this has happened," he captioned the image.
Taking the joke one step further, Florida Senator Rubio responded with a tweet saying: "In fairness, I warned @VP that 'you break it, you own it.' "
While a few people were upset over the 58-year-old's decision to ignore the rules, considering the sign on the equipment literally stated "critical", Nasa does not seem to have an issue with the unwarranted touch. "It was OK to touch the surface. Those are just day-to-day reminder signs. We were going to clean it anyway. It was an honour to host you!" the space agency tweeted.
"Procedures require the hardware to be cleaned before tiles are bonded to the spacecraft, so touching the surface is okay," it added in a statement to CNN. "Otherwise, the hardware would have had a protective cover over it like the thermal heat shield, which was nearby."
Considering Pence's boss and US President, Donald Trump is better known for laying his hands on things and people he is not supposed to, the now-famous photo triggered a range of jokes on social media.