Arsenal midfielder Mikel Arteta says his career in north London has exceeded his expectations.
Arteta joined The Gunners from Everton in the summer of 2011 and has enjoyed a decent two-year spell at the Emirates Stadium.
And the Spaniard, speaking ahead of a rematch with former club Everton, says his career at Arsenal couldn't have gone much better.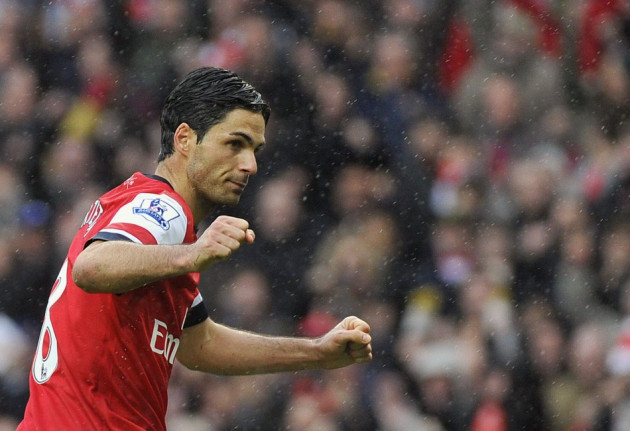 "It has gone probably better than I expected," Arteta told Standard Sport. "When you come to a club like Arsenal, you expect to find it very tough.
"I didn't know how much I was going to play but to get in the team and play the amount of games I have in the last two years in unbelievable. The way I have got on with the players, the staff and the fans has been great.
"My family are happy here so I think I made the right choice coming [to the club] and that is not disrespectful to Everton. I felt it was my time to leave after what I did there and go on to a different challenge."
David Moyes was left furious in November in the first meeting between the two sides this season, as the Toffees were denied a penalty despite Arteta felling Steven Pienaar in the second half as the points were shared.
But there is substantially more on the line in Tuesday evening's meeting, with Champions League football remaining up for grabs, with Arsenal currently third while Everton are sixth.
The 31 year old Arteta has adopted an entirely different role at Arsenal from his days at Goodison Park, showing his discipline in a defensive midfield role, and the ex-Barcelona youngster admits he has no ambition to revert to his original attacking position.
"Sometimes when I watch old videos from when I was at Everton, I see I was playing left wing, right wing and the way I have to play now is very different," he said.
"But when I started my career at Barcelona and Paris St-Germain, I used to play there with a lot of creative players in front of me and I enjoyed a different role. You have a lot of responsibility there but I enjoy it now.
"Sometimes people say to me, 'Mikel, you can go forward, score goals and be in the headlines,' but we have a lot of good players who can do that already. Sometimes you need to know that if you can help in another position and make the rest better, that is the best thing to do."