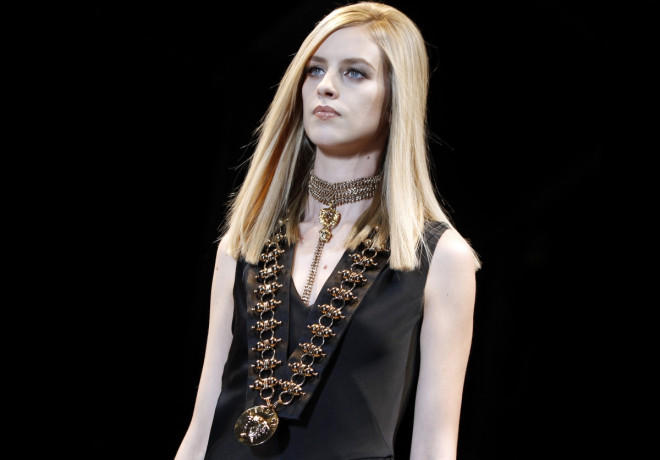 As Milan Fashion Week entered its third eventful day, two of Italy's most prominent fashion designers – Donatella Versace and Giorgio Armani – turned heads to their opulent collection on the runway.
Versace and Armani presented their women's wear creations for the Autumn/Winter 2014 show, which started in Milan on 18 February.
While both the design giants presented luxury collection, each of their collections featured contrasting styles.
Armani showcased the creations from his youth-focused Emporio Armani line that features high-end luxury clothes.
Luxurious fabrics were the highlight of the collection and included wide-legged trousers, asexual fitted jackets, knitwear, padded jackets, fur coat, black evening dresses and velvet trousers with trails of pearl.
"If a woman doesn't have too much bust or behind, she can wear a man's suit, but otherwise, if she is more fully figured, she appears to be a sex bomb," the 79-year-old ace designer joked about his collection. He said his collection was inspired by the character Nikita in Luc Besson's 1990 French film Nikita, also called La Femme Nikita.
Armani's accessories for women had a masculine touch with neckties and bowler hats.
Designer Donatella Versace didn't lag behind either in her luxury creations on the third day of the biannual women's fashion extravaganza.
A shot of bold colour imparting sensuality ruled the Autumn/Winter 2014 collection by Versace. The fashion house put a high-end show featuring evening gowns, asymmetric cut dresses, slips, leather tuxedos, intarsia cocktail gowns, trapeze coats and skinny trousers.
"I wanted to explore a woman's sensuality with this collection," the 58-year-old designer said.
"I can't forget all my friends who are rock stars," added Versace, whose collection looked suitable for red carpet fashion.
Have a look at some of the creations of Armani and Versace: