Its not a real fashion month before a luxury designer is called out for stealing the work of an underground artist, and this season's first battle is between Gucci and LA stylist Sonique Saturday over a satirical slogan tote seen on the catwalk on Wednesday (25 February).
Saturday, who is known for her brand BellaDonna Handbags creates rebellious anti-luxury versions of handbags with slogans like 'You fake like this Birkin' painted onto counterfeit styles (made famous by the likes of Amber Rose).
After seeing the Italian fashion house's autumn/winter '16 show, Saturday and her fans took to social media to highlight the similarity between her own work and that on a black tote bag from look 19 of the show that featured the word 'real' spray painted over the official Gucci logo. In an Instagram post, that has since been deleted, the stylist noted "too bad I'm not getting that check for @Gucci stealing my creation" expressing that she was proud to see her work on the runway but unhappy with the lack of acknowledgement and encouraged her fans to do the same.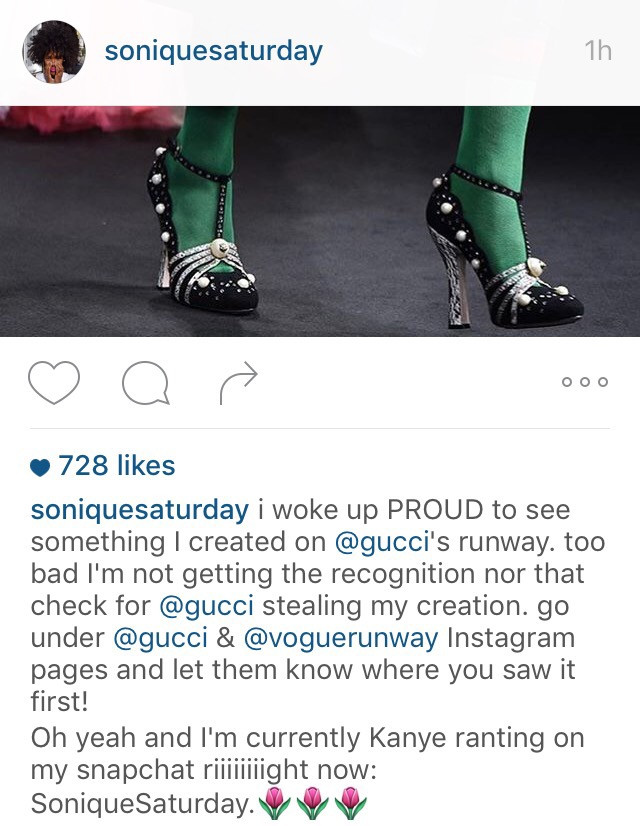 There is a potential likeness between the two styles in that they are playing with the idea of counterfeit luxury, however the fact that Gucci's AW16 collection was created in collaboration with artist and musician Trevor Andrew does put into question where the Gucci runway idea originated from. Also working under the name GucciGhost and Trouble Andrew, the Canadian born artist has created numerous pieces using the infamous Gucci logo. Documented on his Instagram account, he has many images of his hand-painted designs that also feature the word 'real' in the same typography as seen on the catwalk yesterday.
In an interview with WWD about Andrew, Gucci creative director Allesandro Michele spoke about being a fan of his work despite the fact that it uses the brand logo. "I saw the way Trevor was using the symbol of the company and I thought it was quite genius," Michele said "It's completely different than the idea of copying. It's the idea that you try to [take to] the street, through language like graffiti, the symbols of the company."
Whilst this does not directly show where the inspiration for the bag in question derived from, it is not as simple a case as suggesting a large brand has plagiarised from a smaller, less known designer, which has been the case for many brands in the last year. There also seems to be no direct reaction from the brand following the allegations, although Saturday has since removed all posts relating to the subject, so it remains to be seen what the outcome will be.
IBTimes UK contacted Gucci and Sonique Saturday for comment.