The idea that imitation is the sincerest form of flattery wore a little thin in 2015 in the fashion world as fledgling designers and independent stores began to notice their work cropping up a little too often in the remits of mass retailers and luxury fashion houses. It is a huge achievement to get your work noticed in the vast realm of the world of fashion but usually when it has your name attached to it.
Aside from a touch of designer dissatisfaction, there was also the growing issue of cultural appropriation that hit designers hard and while the internet has created an unlimited vault of information, it also means sensitive historical documents can be manipulated to fit new creative purpose.
In the past, a designer may have had free rein to replicate prints or artistic works without the world noticing, however our continuing and rapidly increasing adoration for social media means no one is hidden and what would have once been a secret faux pas is now a global news story. With that in mind, let's take a look at who got into trouble this year for taking their inspiration a little too far.
Cara Delevingne vs Otherwild
What happened? Cara Delevingne got into a little hot water at the beginning of December when she Instagrammed an image of herself and a friend in a "The Future is Female" sweater mentioning in the comments "A lot of you have been asking for one of these – so I decided to put them up for sale, with proceeds going to Girl Up ! ~~LINK IN BIO~~ represent.com/cara thank you".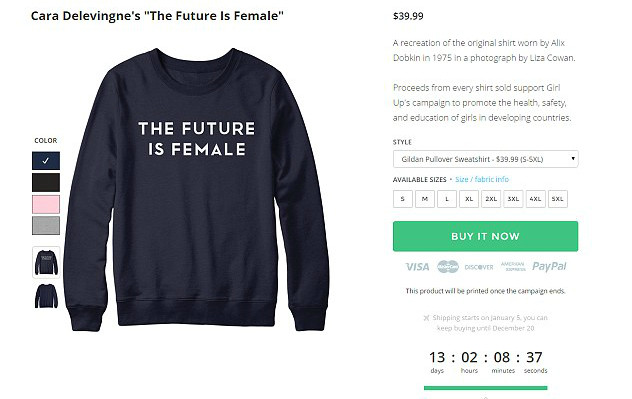 While this seemed to have been done with good intentions, it was quickly picked up by independent store Otherwild who claimed to have sold her the exact same design a few weeks previously with its profits being donated to Planned Parenthood.
The typography and phrase in question, as the US store stated on a retaliating Instagram post, first originated from Jane Lurie's and Marizel Rios Labyris Books, which opened in 1972, and Otherwild used @lizacowan's image of Alix Dobkin in the shirt taken in 1975 with permission, as originally seen on Kelly Rakowski's @h_e_r_s_t_o_r_y. Otherwild's redesign and reissue of the FIF tees and buttons is protected under copyright law, which mandates that any reproduction of an existing known public work must be altered at least 20% from the original.
How did it end? Cara D edited her Instagram post to thank @lizacowan @otherwild and @h_e_r_s_t_o_r_y but has not stopped selling her sweatshirts, while Otherwild has continued to push its design along with content from the original artists so it seems there will be no shortage of The Future is Female merchandise anytime soon.
Chanel vs Mati Ventrillon
What happened? The indisputable power of Karl Lagerfeld and Chanel within the fashion world is absolute, so when members of the infamous French label requested to visit her small independent knitwear label in the Fair Isles, designer Mati Ventrillon obliged.
However, while watching the recent Chanel Metiers D'Arts show in Rome, Ventrillon recognised the greatly applauded knitwear designs on the catwalk as they were replicas of her own. She took to Facebook to publicise the fact that she had allowed Chanel representatives to purchase her designs with the promise that they would not be replicated and showed an image of her own work beside that shown on the Chanel catwalk. Shortly after, the story went viral.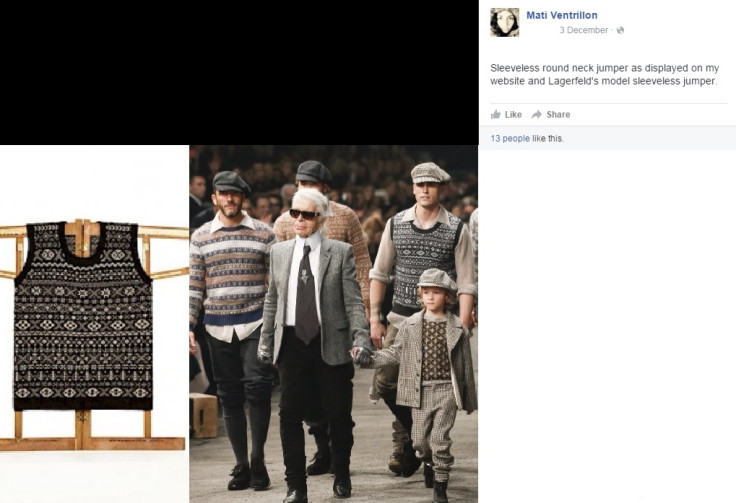 How did it end? The Chanel house apologised after recognising there had been a lack of communication between teams and promised it would "credit Mati Ventrillon by including the words 'Mati Ventrillon design' in its communication tools to recognise her as the source of inspiration for the knitwear models in question". Ventrillon seemed rather pleased with the outcome and thanked the fashion house on her Facebook page.
KTZ vs Salome Awa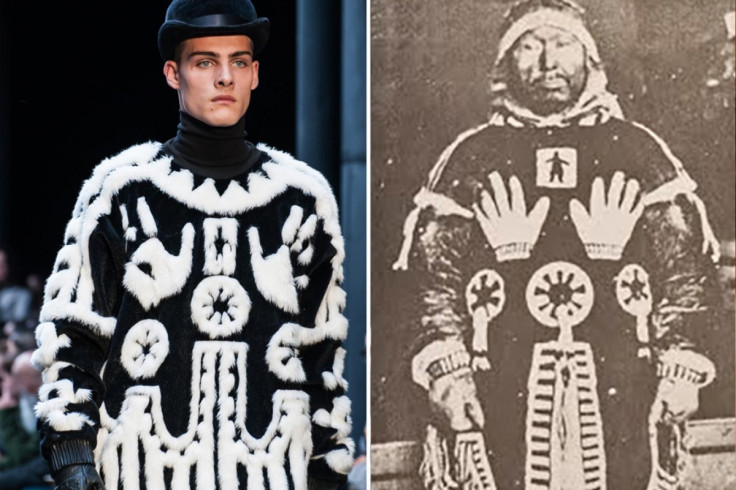 What happened? Known for its bold illustrative designs that reference multicultural and historical influences, fashion design house KTZ (Kokon to Zai) found itself in a world of culturally appropriated discord when some of its research on Inuit design and heritage made its way on to the runway. The piece in question named Shaman towelling sweatshirt featured an exact replica of a design belonging to one of the last Inuit Shaman's named Aua.
It was Aua's great-grandaughter, Salome Awa, who notice the design had been taken from her relative. A producer at CBC, she told the site it was made without her permission and that she was furious. "It was disgusting to see a sacred design used as a sweater," she said. "We are a proud people and our ancestors and traditions are very important to us."
What happened? KTZ issued an apology to Salome explaining "it's part of KTZ's DNA to celebrate multiculturalism as a form of art and to encourage appreciation for traditions, ethnicities and religions' diversity" and that the Inuit community were credited in its press releases for its AW15 collection that included the Shaman sweater. However its also then removed the sweatshirt from its online shop as well as all stores.
Isabel Marant vs Mixe community in Santa Maria Tlahuitoltepec, Oaxaca, southern Mexico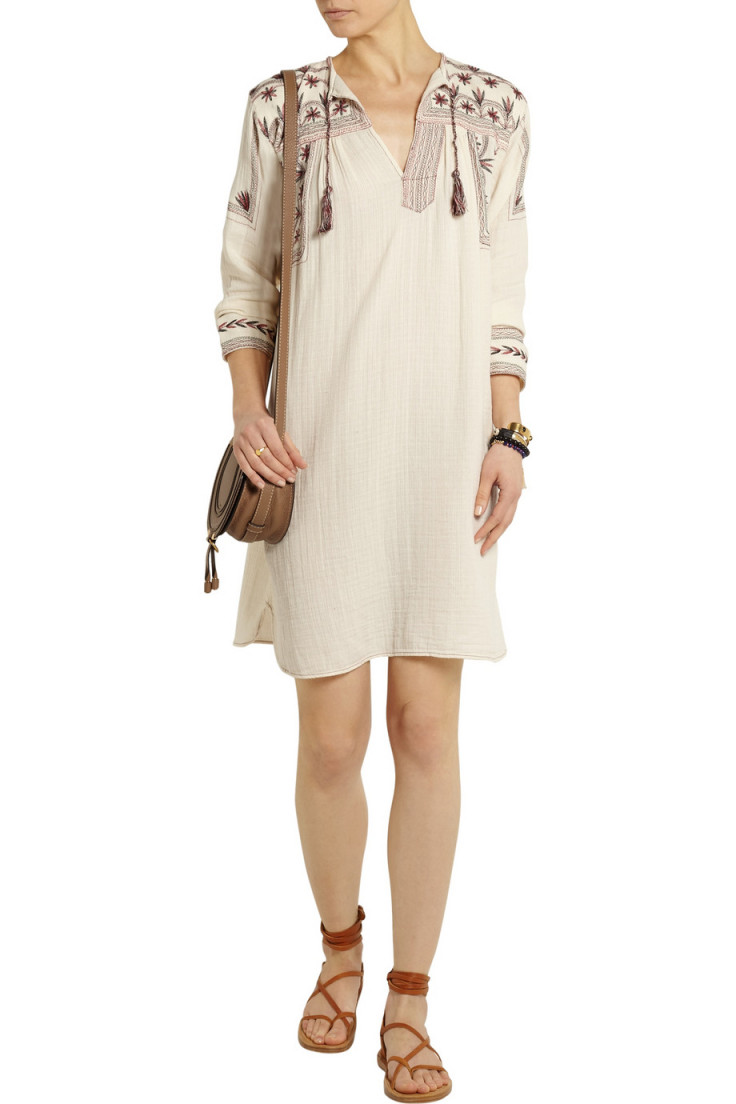 What happened? In June, designer Isabel Marant found herself embroiled in a legal battle after the Mize community in Oaxaca, southern Mexico called her out for allegedly replicating its traditional dress in her Etoile label. Back in January, Oaxacan singer Susanah Harp sent a tweet alleging the blouse was copied, which was just the beginning of a year of confrontation.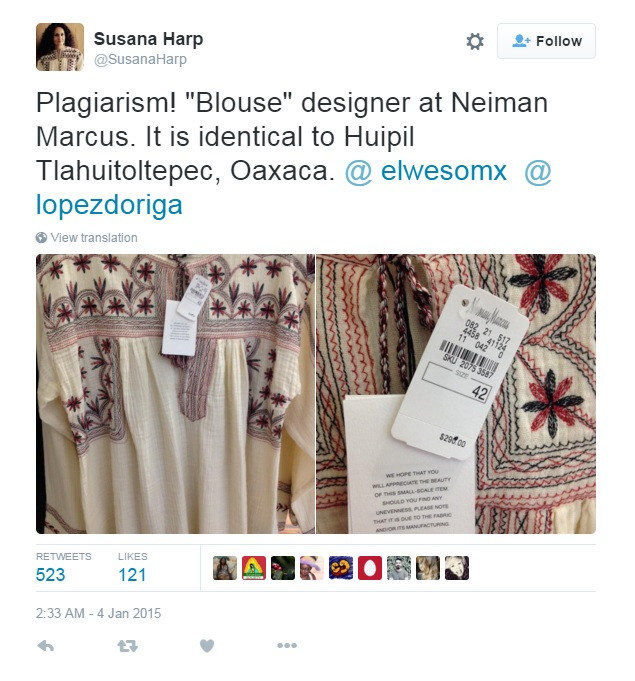 The Guardian reported that in a press conference in June, the community of Oaxaca had said: "Isabel Marant is committing a plagiarism because the Etoile spring/summer 2015 collection contains the graphical elements specific to the Tlahuitoltepec blouse, a design which has transcended borders, and is not a novel creation as is affirmed by the designer."
Marant's team retaliated in a statement saying: "[Marant] has presented submissions which expressly point out that these designs come from the village of Santa Maria Tlahuitoltepec in the province of Oaxaca, in Mexico." It added: "For her part, Ms Isabel Marant does not claim to be the author of this tunic and these designs."
How did it end? The story seems to be ongoing as there were further reports in November claiming Marant was trying to obtain copyright for the design as there were also plagiarism issues with French design house Antik Batik, who was using the same blouse pattern. This would have ultimately meant the Oaxacan people would have had to pay Marant for the right to use their own traditional design.
However, speaking to Vogue in November, Marant's spokespeople said: "Isabel Marant also formally denies having sent – or asked any French authority to send or issue – any document to the authority of Santa Maria Tlahuitoltepec, Oaxaca, to prevent the inhabitants of the municipality from selling their indigenous designs. On the contrary, Isabel Marant is fighting before the district court of Paris to set the record straight."