Miley Cyrus is bringing some of her very particular sass and style to The Voice US. The "Wrecking Ball" singer has a new role as key advisor to the contestants in the singing competition during the all-important knockout rounds.
The controversial star, known for her flamboyant style and outrageous antics, showed the wannabe singers what it takes to stand out from the crowd.
In a preview of the forthcoming show, the 23-year-old brought a whole lot of colour and sparkle to the show, donning an array of eclectic outfits including a Stars and Stripes inspired denim getup, a mauve faux fur jacket, and a jumpsuit with rainbow colored pants and a heart-shaped blouse in blue and white.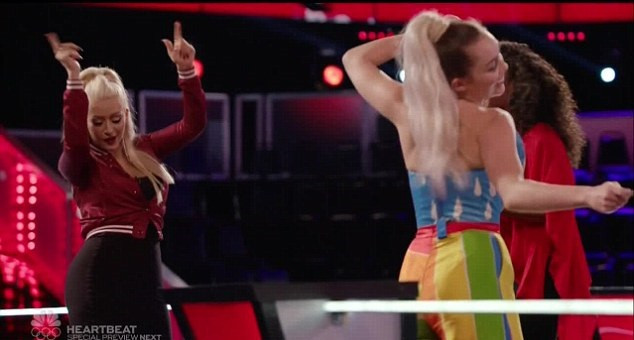 Displaying her tattoos, she encouraged the singers to embrace their individuality. "You can always do it your way – I'm the prime example," she said.
While Miley was a hit with the contestants, she also won the approval of her fellow music industry peers, The Voice judges. Clearly having fun as she danced with Miley on the stage, Christina Aguilera commented that the singer made it "maybe the best fun I've had out of any season I've done The Voice. Having Miley as a key adviser is amazing this season. She is special, unique, she is so versatile," she added.
Blake Shelton agreed that Miley's contribution was invaluable to the young hopefuls. "Miley relates to every genre of music," he explained. "She came from country roots but she's also produced pop music. If there's anybody who can pass on some knowledge that is valuable to young people right now, it's Miley Cyrus."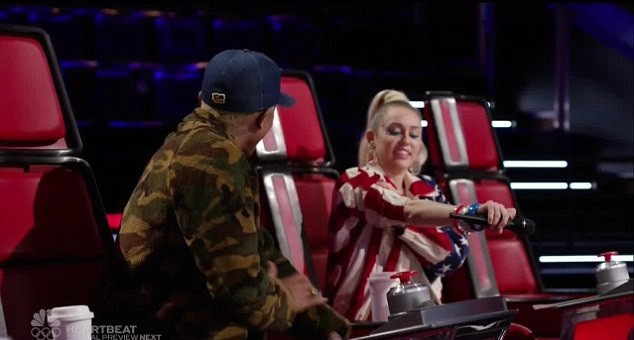 Maroon 5 frontman Adam Levine was clearly impressed as he listened to Miley giving advice to one of his singers. "This is why we have Miley Cyrus here," he said.
Miley who was up to mischief taking a seat in the red chairs alongside Pharrell Williams and dancing up a storm on the show, appeared to be revelling in the experience. "What I love about The Voice is it gives people everywhere a fair shot at being what they wanna be," she explained.
Of late Miley has been making more headlines for her complicated love life amid reports that her on-again off-again romance with Liam Hemsworth is on the rocks. The Hollywood couple are said to be feuding over Miley's love of marijuana, prompting Liam to issue her with an ultimatum.
While it was thought the couple had set up home together in Malibu, the singer added fuel to the rumours she has split from The Hunger Games actor with a series of cryptic Instagram posts.
In one Instagram picture, her left hand is missing the ring she has worn over the last couple of months on her engagement finger.
While Cyrus has not commented on her relationship status, she has been focusing on her rigourous yoga regime. Her new role on The Voice US might also serve as a good distraction from her turbulent love life.