Miley Cyrus is known as much for her tendency to stick out her tongue as she is for her twerking. It's all seemingly part of a provocative, controversy courting package.
When asked by Barbara Walters why she feels the need to do so, particularly when posing for photos, Cyrus claimed it's a default reaction to avoid feelings of embarrassment.
"I get embarrassed to take pictures," explained Cyrus. "That's actually the truth. I don't know how to smile, and just be awkward, so I stick my tongue out, because I don't know what else to do."
Well it seems the singer, who lives to shock, has found another way of making headlines using her tongue as a marketing tool. According to TMZ Cyrus's, "new thing" is "bumping tongues".
The singer was recently photographed sharing saliva with British model Cara Delevigne.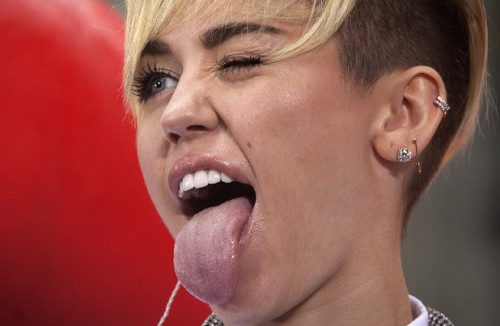 It wasn't widely known that the two were even friends, however they do have in common, a growing affection for One Direction star Harry Styles.
The Wrecking Ball singer has most recently hit the headlines after the video for her new track Adore You was leaked.
Venting her anger on Twitter she said: "We all know Smilers would break another record if it wasn't for the f*** face who leaked my video. Allllll good! Keep smiling. :) "
The video, widely described as dull, sees the 21-year-old writhing around naked on a bed and apparently in various states of orgasm.
If there was ever any doubt, Miley is certainly proof that sex sells and for someone who claims to be embarrassed, she does a good job of hiding it.
We've certainly seen a whole lot of Miley lately as she so doggedly discards her wholesome Hannah Montana image.
And as the young singer finds ever more inventive ways to shock, we're sure to see a whole lot more of her, as her sensational publicity stunts win her more record sales.
And her tongue will take much of the credit for that.