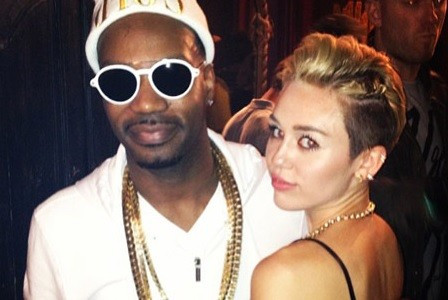 Miley Cyrus, never knowingly publicity-shy, has been targeted by a satirical gossip site that claimed she was pregnant with rapper Juicy J's baby.
According to CreamBMP.com, the Disney star-turned-twerking sensation revealed that she was in the family way at the BET Hip Hop Awards in Atlanta.
The duo, who teamed up on Mike Will Made It's '23' song, were said to have got closer.
"I assure you she's been doing a lot more than twerking," Juicy J, 38, reportedly said on stage at the awards ceremony, according to Cream. It added that Cyrus, who provoked controversy with her raunchy performance with Robin Thicke at the MTV VMAs, then blurted out that she was pregnant.
The crowd took it as a joke until she said it again.
CreamBMP claimed that her father chimed in that she had "really broke my achy-breaky heart" with her baby news.
Earlier in September, a source told OK! magazine that Cyrus had attempted to trap ex-fiancé Liam Hemsworth by getting pregnant with his child.
The Wrecking Ball hitmaker allegedly wanted to go public with the news but the Hunger Games star was reluctant.
"Miley thought she was expecting and wanted to announce it to the world, even before she went to a doctor to verify the results," the source said.
"Liam begged her not to go public yet. He was emotionally out of the romance for months by that point, though he was still sleeping with her."
Cyrus has not commented on any of the pregnancy reports.