Pop star Miley Cyrus received backlash for her performance at the MTV Video Music Awards held at the Barclays Center in Brooklyn, New York.
The 20-year-old former Hannah Montana star performed her hit single We Can't Stop and later a duet of Blurred Lines with Robin Thicke. Cyrus who entered the stage in a silver sequin leotard with an image of a bear sticking his tongue out, later slipped into a flesh-toned plastic bikini.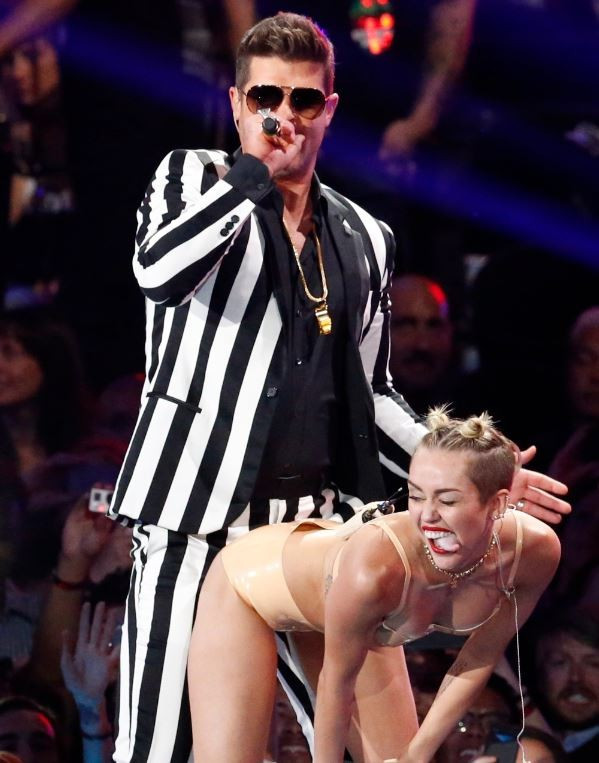 Celebrities took to Twitter to react on her performance.
"Remind me to never let my kids into showbiz... Thanks," Mariah Carey's husband Nick Cannon wrote.
Celebrity blogger Perez Hilton posted, "@LiamHemsworth What'd ya think of @MileyCyrus's #VMAs performance???? "
Modern Family's Jesse Tyler Ferguson tweeted, "I just watched the #VMAs & I know I'm going to have nightmares about Miley Cyrus playing a tiny harp where her "red light area" is."
Pretty Little Liars star Keegan Allen joked, "Miley Cyrus made a lot of people pregnant tonight."
American basketball player Candace Parker wrote, "Omg... I'm watchn VMA's and ummm Miley Cyrus... Ummmmmmmmmmm ummmmmmmm #PoppedAMollyAndTwerked"
ILYICH: "Miley Cyrus is a perfect example of whats wrong with the world today...I mean everything. Content,costume,etc.. This is whats IN...."
Ben Haggard: "No offense to any of Her fans but damn Miley Cyrus has gotten strange"
Teddy Sandman: "That performance should've NEVER been allowed! @MileyCyrus is a disgrace to the art of music! Get ur daughter under control @billyraycyrus"
Trenton Robinson: "It is official after the VMA Miley Cyrus is super ratchet #lmao so so ratchet."
Meanwhile, on the red carpet, Cyrus opted for a black vintage Dolce&Gabbana outfit and teamed it up with Giuseppe Zanotti shoes, and Lorraine Schwartz jewels