Miley Cyrus has slammed GOP presidential front-runner Donald Trump for his 'sexist' comments about women. The Wrecking Ball singer blasted the billionaire businessman on Instagram on Friday (25 March) for comparing his wife Melania Trump to Ted Cruz's wife Heidi.
Reposting the original meme, the 23-year-old launched into a tirade against the Republican Presidential candidate calling him out for being sexist.
"Trump can't stop won't stop saying stupid a** sexist s***!!!! Comparing two women! Are you f****** kidding! We will not allow you to destroy everything we have overcome as women! I feel as though we are stronger than ever as a unit," the singer wrote in the post.
She continued: "We have an understanding and respect for one another (more than trump can say about anyone, his fellow candidates, other races and religions , other public figures , just HUMAN BEINGS in general, and of course animals! Check out his family hunting photos!!!!) it's absolute insanity that this has gone on this long and far! Wake me up from this nightmare someone PLEASE!"
The Voice US star has made her opinions aboutTrump known in the past, describing him as "a f***** nightmare" in another Instagram post in March.
Trump has refuted criticism over his comments about Cruz's wife, claiming that he respects women more than anyone else. "The media is so after me on women Wow, this is a tough business. Nobody has more respect for women than Donald Trump!" he wrote.
Last week their wives were dragged into the mudslinging when an anti-Trump group posted a nude photo of Mrs Trump, a former Slovenian model. Mr Trump accused Mr Cruz of sanctioning the attack, and tweeted a threat to "spill the beans on your wife!"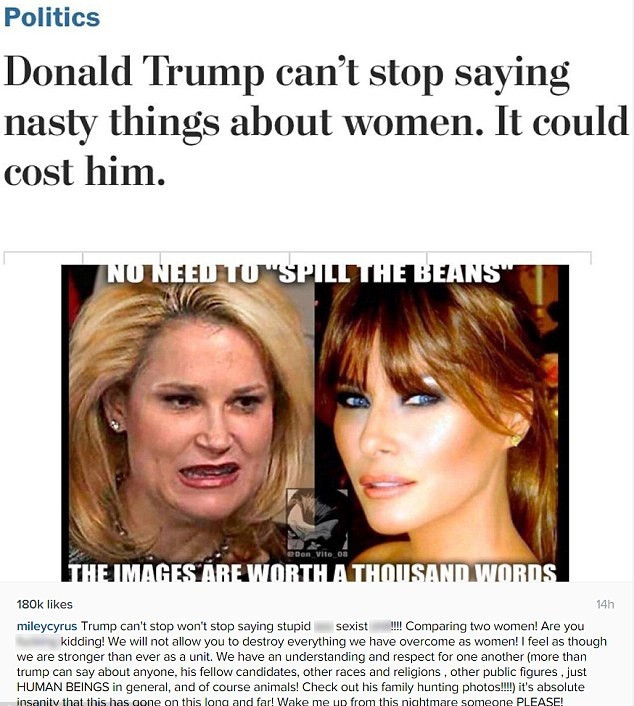 Cyrus's comments come just as the GOP Presidential race hit a whole new low as Republican presidential candidate Ted Cruz found himself at the centre of a "sex scandal." The 45-year-old has been accused of adultery following a report in the National Enquirer that claimed he has had five extramarital trysts with "a hooker, a teacher and her co-workers.".
The sensational headline in the gossip magazine read: "5 romps that will destroy Ted Cruz!" The married Texas senator dismissed the claims as "garbage" attributing the article to a dirty tricks campaign by his key rival Donald Trump.
Trump's attack on Heidi Cruz is raising concerns among Republicans about the party front-runner's ability to win over the female voters.