Miley Cyrus and Pink are the latest celebrities to wade into the 'slut-shaming debate' sparked by Kim Kardashian West. The reality TV star faced a public backlash and charges of objectifying women, after she posted a nude selfie on social media on International Women's Day.
The selfie taken in her bathroom as she shows off her post-baby figure bears the caption, "When you're like I have nothing to wear LOL."
The photo prompted a stern reaction and she unwittingly found herself engaged in a war of words with Bette Midler, Piers Morgan and Chloe Moretz, who each criticised the 36-year-old for stripping off for attention, accusing her of setting a bad example for young women.
"I truly hope you realise how important setting goals are for young women, teaching them we have so much more to offer than-" wrote Moretz.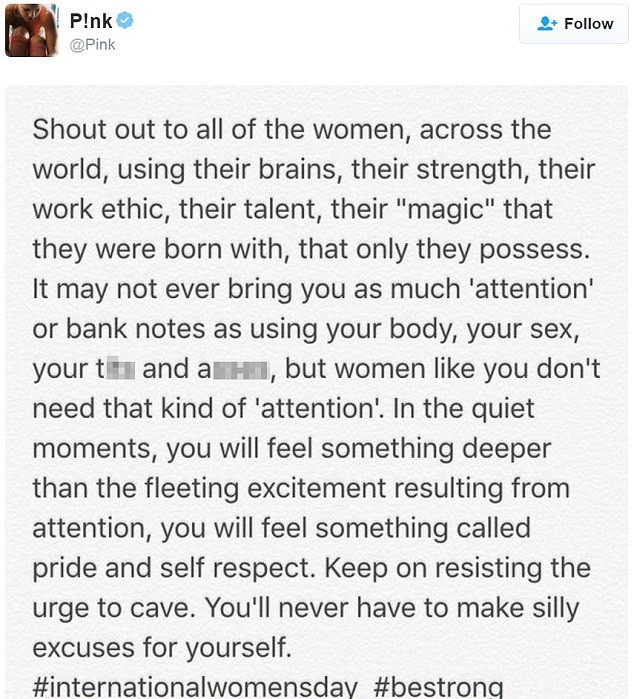 Singer Pink is the latest celebrity to turn to Twitter to criticise the Keeping Up with the Kardshian star, as she urged her fans not to use their 't**s and a**es' to get 'attention'. In a lengthy Twitter post, the 36-year-old wrote: "Shout out to all of the women, across the world, using their brains, their strength, their work ethic, their talent, their "magic" that they were born with, that only they possess.
"It may not ever bring you as much "attention" or bank notes as using your body, your sex, your t**s and a**es, but women like you don't need that kind of "attention". In the quiet moments, you will feel something deeper than the fleeting excitement resulting from attention, you will feel something called pride and self-respect," she added. "Keep on resisting the urge to cave. You'll never have to make silly excuses for yourself."
In a second tweet, Pink shared: "Last one for the evening: you are all entitled to your opinions and feelings and I am open to hear all of it. But it won't change my mind."
The Get This Party Started singer in turn found herself under attack from Amber Rose who hit back at the pop star, pointing out that she has performed in the past while 'damn near naked swinging from a rope'. While Rose, who previously dated Kanye West, has had her own spats with Kim, the 32-year-old was keen to defend her former love rival.
"Damn Pink we were all born naked society sexualizes our breast and bodies,' she wrote, telling Pink that it is not her 'business' if Kim wants to share nude photos on Twitter. If a grown mother of 2 is comfortable with her body and wants to show it off that's none of ur business or anyone else's,' Amber added. 'Now, if u wanna talk to kids and be a mentor to young teens, tell them to go to school and to not use their bodies to get ahead?! I'm all for it!
"But please as a grown woman let another grown woman live as she wishes. That's our problem! We're so quick to down each other instead of uplifting! Pink, We've seen u damn near naked swinging from a rope( Beautifully) but what's the difference between a rope, a pole and a pic on Instagram? Classism. Because u sing while ur half naked does that make it "Classy" or is it because u have a "talent"? I'm not dissing at all Pink just curious after u said 'You'll never have to make a silly excuse for yourself'."
Amber added: "Let's let the naysayers know u are so much more then a sex tape (13 years ago) f*** it own it. Ur a mom and a business woman, a wife, sister and daughter. Hope we can make this happen #AmberRoseSlutWalk2016."
Outspoken singer Miley Cyrus later entered into the discussion urging women not to tear each other down. "Dear women, you ALL are acting tacky AF!" Cyrus posted on Instagram on Tuesday, along with a photo of Kardashian's butt kimoji. "Why don't we overly (myself included) fortunate women come together and try to create and bring jobs to other women in desperate need of them so they can support not only THEMSELVES but their families!"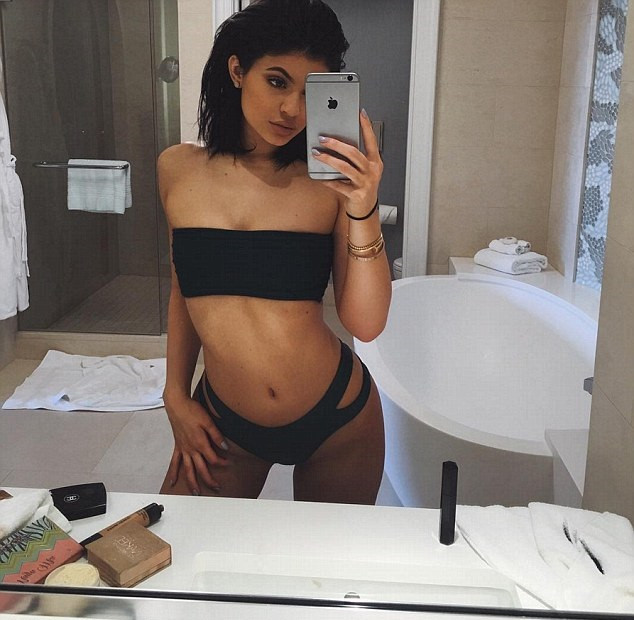 Following the furor around the naked image Kim penned an essay for her subscription-based website kimkardashianwest.com, defending her decision to share the controversial naked photo. "It always seems to come back around to my sex tape," she wrote. "Yes, a sex tape that was made 13 years ago. 13 YEARS AGO. Literally that lonnng ago. And people still want to talk about it?!?!"
As she contends with the latest outrage, her family have tweeted their support. "can't wait to get home to North, Saint and my wife ..." wrote husband Kanye West.
On Wednesday, younger sister Kylie Jenner shared her own Instagram snap emulating Kim, as she photographed herself in a black two-piece bikini as she posed in her bathroom. Writing on Twitter she said simply: "Kim is a legend".