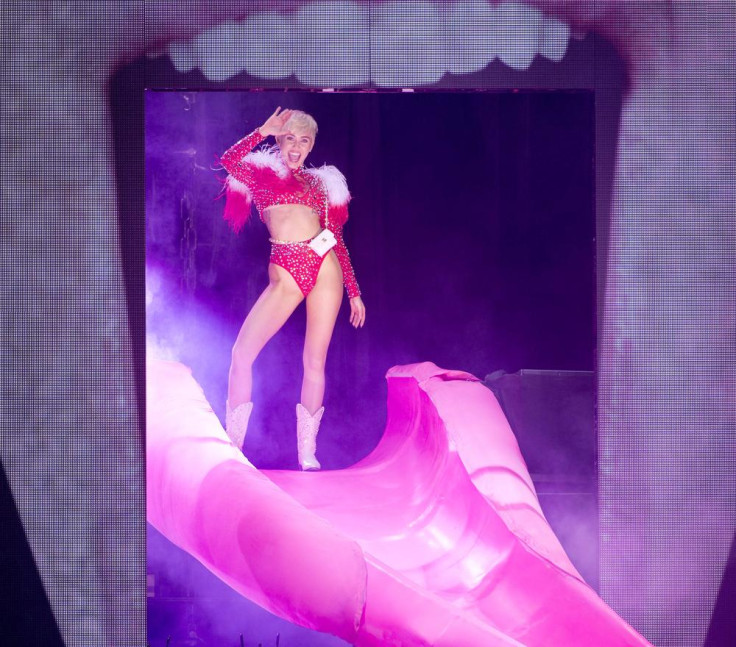 There was crotch grabbing aplenty, marijuana inspired costumes, a giant hot dog, tongue slide, a Bill Clinton impersonator and there was definite twerking.
It could only be the opening night of Miley Cyrus's Bangerz tour.
With the stage adorned by a giant size photo of Cyrus's face, the 21-year-old emerged from her own mouth and slid down a giant replica tongue, in a fitting homage to her own tongue wagging antics with which she is synonymous.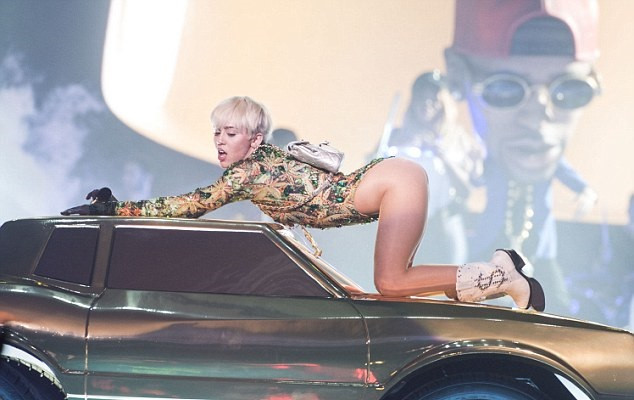 Opening her tour in Vancouver, Canada, the controversial singer rocked a derriere exposing, marijuana leaf leotard, as she performed her trademark raunchy moves.
Sporting her trademark platinum blonde pixie hairdo, the Wrecking Ball singer laid spread eagle over the roof of a car, making good use of her microphone as a prop in a racy dance sequence.
Among her twleve costume changes was a red, mid-riff baring two-piece with feathered shoulders and rubbed suggestively against her backing dancers while they too got a bit hands on.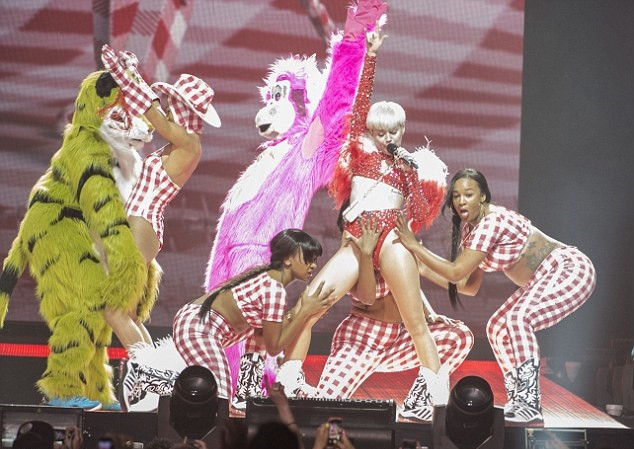 Known for her controversial stage performances, the singer who is on a mission to shed her Disney image, said she regards it as art.
"I hope people open their minds and they look at my tour as something that I do feel is educational for kids.
"Because I think a lot of people aren't exposed to art enough and that's something that I had to learn about.
"It's a lot how a play would be and we've got kind of these intermissions to keep people really involved and what I wanted is for people to see a show that they would least expect."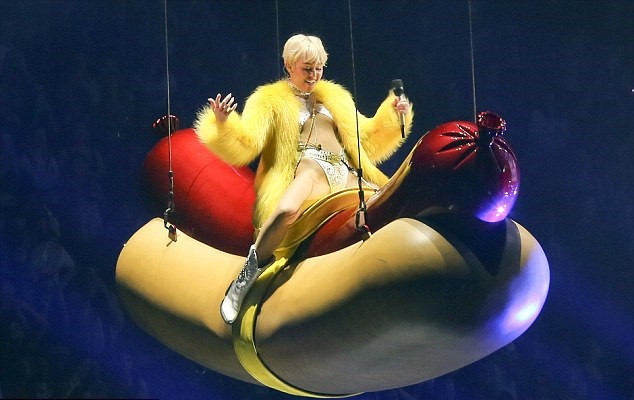 But the star said it's not all just about the shock factor.
"I want my fans to walk away knowing more about the art that inspires me. Between the VMAS and unplugged, there's a hybrid that really makes it about the music.
"'It is fun for people to walk out and be like "Oh my God did she just do that?" but there's so much that I do love about shock value, but then I really want there to be that core about the music."
There was a glint of Madonna, with a touch of Las Vegas and a nod to country with the dancers gyrating in blinged up gingham outfits, and Cyrus donned her cowboy boots to join in on a Conga line.
But in the end, as always, it was all about Cyrus and her tongue.