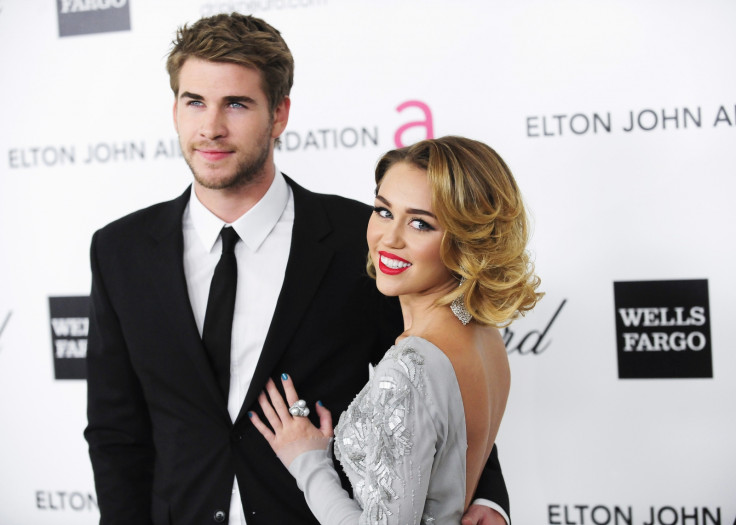 Miley Cyrus was spotted at Los Angeles Airport on 30 September, but the Wrecking Ball hit-maker was not sporting her engagement ring from rumoured fiancé Liam Hemsworth. Although the 23-year-old singer has flaunted the ring on numerous occasions after getting back with The Hunger Games actor in December 2015, the couple have not confirmed their engagement as yet.
At the airport, the songstress was seen in colourful polka trousers, which she paired with pink sandals and star-rimmed sunglasses. The ring that the songstress has flaunted in the past few months is the same one she received from the Australian actor when he proposed to her in 2012.
In a recent interview, Cyrus had called the 26-year-old actor her "boyfriend" and showed-off her ring for the magazine's photo shoot.
In August, Us Weekly had reported that Hemsworth and Cyrus had cancelled their wedding plans as the singer was not happy with the "beach wedding" in Australia and their honeymoon destination in Bora Bora.
"[Miley Cyrus] is still erratic about with her decision-making," a source told Us Weekly. (Via HollywoodLife)
"Miley just decided she didn't want to go there anymore. They have yet to pick a new locale," the source added.
However, just days after Us Weekly reported the couple have cancelled their wedding plans, a source told HollywoodLife that the two were planning to get married the "traditional" way with a big wedding ceremony surrounded by family and close friends.
"As unique as Miley [Cyrus] is in her style and how she treats life, she does want to steer towards a traditional wedding. She wants the flowing white dress, she wants the ceremony to be big and very family oriented and she also wants to go through all the traditional wedding happenings that people are familiar with, since she knows that will make Liam [Hemsworth] very happy," a source told HollywoodLife.
"As much as they both want it to happen soon, this year doesn't appear to be the time for it to happen," the source added.
The two first started dating after meeting on the sets of their 2009 film The Last Song, but split in 2013. They reunited in December 2015.