Ed Miliband is set to clash with Labour activists at a weekend conference where he will unveil long-awaited plans for part renationalisation of the railways.
The Labour leader will announce proposals to create a new overarching rail authority to drive down fares, make trains run on time, simplify the current complex fares system and oversee the entire network.
But he will also tell delegates to the party's national policy forum that he has ruled out wholesale renationalisation in favour of a system that will allow both private and public companies to bid to run railways.
The policy has been hammered out with the rail unions by Labour's policy review head, Jon Cruddas, but has already sparked a backlash amongst activists who are pressing for a full-scale renationalisation.
And it has long been the case that, since Tory prime minister John Major privatised the system in the 1990s, public support for the network to be state run has grown.
But Miliband fears both the potential financial and political costs of renationalisation which the Tories would seize on to revive talk of Red Ed and his full-blooded socialist agenda.
He is aware that any talk of as return to the old British Rail system would prove politically damaging, particularly amongst voters who remember the reality of BR when it ran the network which was marked by delays, crumbling rolling stock and huge public subsidies.
But he and Cruddas also believe a mixed public and private system would actually represent the best of both worlds.
In his statement to the meeting, Miliband says: "It is now clear that the rail system is not delivering a fair deal for passengers or the taxpayer.
"Both public subsidy and fares are higher than in other countries, and there is no 'guiding mind' overseeing the railways, planning investment and ensuring results.
"We have also seen a chaotic franchising process in recent years that has cost millions."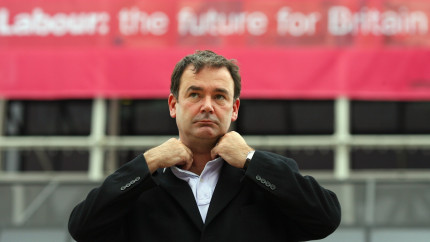 He will point to the success of the East Coast mainline, taken over by a public company after the private operator walked away from it but die for re-privatisation later this year.
A Labour government would bring in laws: "to allow a public sector operator to be able take on lines and challenge the train operators on a genuinely level playing field to secure value for money for passengers and taxpayers."
The policy will attract criticisms that it will prove hugely difficult to create the sort of level playing field he has suggested without creating new difficulties and bureaucracy.
There will be fears that either publicly-owned bodies will not be able to compete with more aggressive private companies or that private firms will simply be frightened off from bidding in the first place.
The Tories have already claimed the policy is the latest example of Miliband dancing to the unions' tune and that it would lead to higher fares and worse services.
However, by describing the policy as a short-term gimmick, transport secretary Patrick McLaughlin has hinted at the Tory fears that the policy may well prove popular.
What is absolutely the case is that passengers are increasingly fed up with inflation-busting fare increases, complex fare structures and overcrowding and are crying out for change.
And recent polls have consistently shown a majority would favour renationalisation and believe the privatisation has proved to be a failure.
As a result, Miliband will face conference demands for the automatic renationalisation of existing franchises when they come up for renewal in the belief it would prove a huge vote winner.
But he is confident the deal Cruddas has struck with the unions will meet his critics' major concerns, particularly when combined with a powerful new singe regulatory body, and will win the day to become an election manifesto pledge.