The Labour party has at least two immediately pressing problems as it struggles to build the sort of poll lead needed to give it any hope of outright victory in the 2015 general election.
One is the on-going campaign to shed its high-spending, party-of-welfare label which has dogged it for years and which it has so far been unable to discard in the face of a Tory narrative that it is a profligate, irresponsible party which ruined the economy.
Ed Miliband's latest manifesto pledge, to deny jobseekers' allowance to youngsters in favour of extra training, is designed to address that issue and prove he can be as tough on welfare reforms and spending as well as the Tories but with different priorities.
The other problem, however, is Miliband himself, with a succession of polls suggesting a slump in his personal popularity and perceived ability to do the job of prime minister.
While even his critics have previously suggested that is a problem that can be "managed", there has been no sign of it so far and, in any case, it raises the question of whether attempts to spin his image would succeed or make matters worse as experience with previous leaders like Neil Kinnock and Gordon Brown proved.
As far as policy goes, Miliband has spent the past year addressing it with popular, quick-hit announcements on issues like energy prices, the banks and payday lenders.
But he is now moving towards the creation of a more fleshed-out election manifesto aimed at offering a coherent, attractive message which he wants to be viewed as a radical alternative to more Tory austerity and unfairness.
The centre-left think tank, the IPPR, has produced a heavyweight 280-page report, "The Condition of Britain", with 28 suggestions of how to "build a good society in tough times" which is part of that process.
And Miliband has immediately adopted one of the more attention-grabbing recommendations suggesting 18 to 21-year-olds will not get out of work benefits unless they already have the skills and qualifications to get a job but will be expected to undertake more training.
Instead there will be a controversial means-tested "parental allowance" for them while in training. Meanwhile older unemployed who have already been in work for five years will receive higher unemployment benefits.
Miliband unveiled the proposal saying it proved the party was committed to welfare reform but in a way that was "progressive, not punitive".
And in a concerted attempt to shed that party-of-welfare label, he said: "We can't just borrow and spend money to paper over the cracks. The old way of doing things won't work anymore.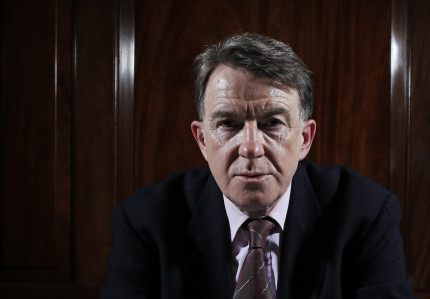 "Instead, we need big, far-reaching reform. Which means big changes, not big spending."
The big announcement came as Miliband's leadership came under renewed pressure with polls suggesting he is not seen as prime ministerial material even with Labour supporters, and with some figures in the party questioning his effectiveness.
Chief amongst the critics was one of the architects of "New Labour", which has been ditched by Miliband, Lord Peter Mandelson who pointedly refused to back his leadership and suggested he had "confused the party's message" to business.
Pressed by Newsnight's Jeremy Paxman over Miliband's leadership qualities, Mandelson would only say: "He is the leader we have and the leader I support and someone who I believe is capable of leading the party to victory".
Mandelson's barbs are unlikely to bother Miliband too much as they could be expected from the arch-Blairite and he dismissed them, saying: "We can't be continuity Labour".
But the more worrying trend is the whispering in the wider parliamentary party that he hasn't got what it takes.
It has struck some as odd, however, that figures such as former minister Alan Johnson have suggested Miliband's brother David had a better rapport with voters on the doorstep, which seems to contradict those who believe he was aloof, haughty and robotic.
At the moment it appears Miliband is determined to ignore his detractors and not attempt some sort of image makeover, actually insisting he is relishing the next 10 months because he has "something distinctive to say".
He and his party will be hoping it is what he says and not how he says it that will ultimately win the day.