Anti-establishment protesters wearing Guy Fawkes masks that have become synonymous with the international network of hacktivists Anonymous will descend on London tonight (5 November), in what has been described by the group as the "largest global protest in world history".
In 2014, thousands gathered in Parliament Square and Trafalgar Square to protest causes ranging from fracking and corruption to the refugee crisis and mass surveillance. The organisers have placed specific focus on the proposed Investigatory Powers Bill, or the so-called Snooper's Charter.
A Facebook page for the event, organised by the Anonymous UK collective, said the march was intended to oppose the "abuses and malpractice" of the current government and the "encroaching destruction of many civil liberties". It coincides with Guy Fawkes Night on 5 November.
A statement on the Facebook page reads: "We have seen the abuses and malpractice of this government, and governments before it, we have seen the encroaching destruction of many civil liberties we hold dear, we have seen the pushes to make the internet yet another part of the surveillance state, we have seen the government's disregard for migrants, for the poor, the elderly and the handicapped, we have seen the capital, profit and greed of the few put before the well-being of the many and we say enough is enough.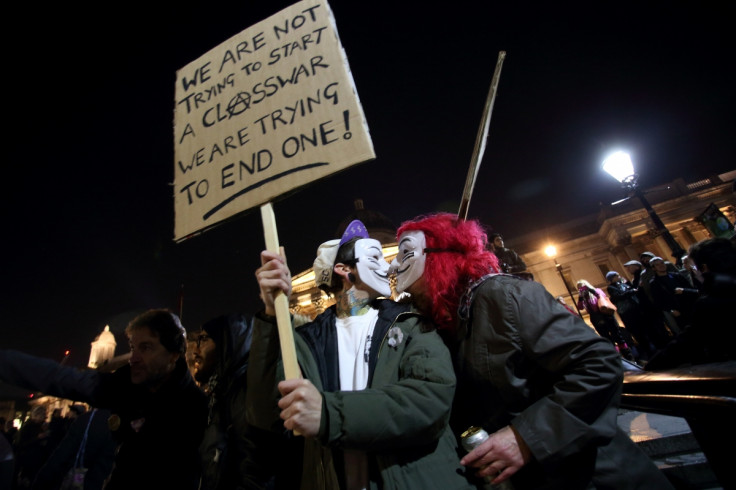 "We invite all the activists, the workers, the students, all doctors, nurses and all those that want to see a positive change in the world, to join us, in Trafalgar Square from 6pm, November 5th. The government and the 1% have played their hand, now it is time to play ours."
Following the arrests of 10 people on suspicion of public order offences in 2014, the police have laid out restrictions for the Million Mask March. The Metropolitan Police said it was imposing the following conditions under the Public Order Act: "The march must not start before 6pm and must finish at 9pm, officers have the power to make protesters remove masks and demonstrators must stick to the route between Parliament Square and Trafalgar Square."
Other marches are expected to take place worldwide, including in the US, Mexico, Ecuador and Cambodia. The events are organised by Anonymous, a global network of activists and hacktivists linked by cyber-attacks against governments including the US, Australia and Israel, the Church of Scientology, child pornography websites, Klu Klux Klan and the British National Party, as well as multinational corporations.