Milo Yiannopoulos book deal cancelled amid outrage over paedophilia comments
Alt-right firebrand lost a $250,000 deal after he described sex between younger boys and men as a "coming of age relationship."
Breitbart editor Milo Yiannopoulos has had his $250,000 book deal with Simon & Schuster cancelled after he appeared to defend paedophilia on a radio show.
The book deal was cancelled hours after Yiannopoulos' invitation to share the stage with Vice President Mike Pence and Senator Ted Cruz at the Conservative Political Action Conference (CPAC) was withdrawn.
While appearing as a guest on the podcast The Drunken Peasants, Yiannopoulos said sex between "younger boys" and older men could be viewed as "a coming of age relationship" and that people "can get quite hung up on this child abuse thing".
His comments were met with outrage on social media. CNN anchor Jake Tapper criticised Yiannopoulos' comments in a series of tweets, writing: "Preying on children is the definition of evil. Justifying it in any way is sick and disturbing."
The alt-right provocateur's book Dangerous was due to be published in June by Threshold Editions, the conservative branch of publishing company Simon & Schuster. The publisher's decision to provide Yiannopoulos with a platform for his controversial views was widely condemned with the Chicago Review of Books stating that it would not review any of Simon & Schuster's books because of the "disgusting validation of hate."
Simon & Schuster urged readers to "withhold judgement until they have had a chance to read the actual contents of the book." But after Yiannopoulos' remarks surfaced, the publisher decided to cut ties with the conservative firebrand. A brief statement read: "After careful consideration, Simon & Schuster and its Threshold Editions imprint have cancelled publication of Dangerous by Milo Yiannopoulos."
Yiannopoulos confirmed the cancellation on Facebook: "They cancelled my book. I've gone through worse. This will not defeat me."
The cancellation follows an announcement by the American Conservative Union (ACU) that Yiannopoulos is no longer invited to speak at CPAC next week.
"Due to the revelation of an offensive video in the past 24 hours condoning paedophilia, the American Conservative Union has decided to rescind the invitation," CPAC chairman Matt Schlapp said.
Schlapp added that Yiannopoulos' apology was "insufficient" and called on him to "immediately further address these disturbing comments."
Half a dozen Breitbart employees have threatened to leave the company if Yiannopoulos is not fired.
"Talking abut young boys and somehow seeking to ameliorate concerns over young boys' relationships with older men...I'm pretty sure everyone in the company would vomit upon hearing these words," a source told the Washingtonian. "What right-thinking person doesn't feel sick to their stomach when hearing something like that?"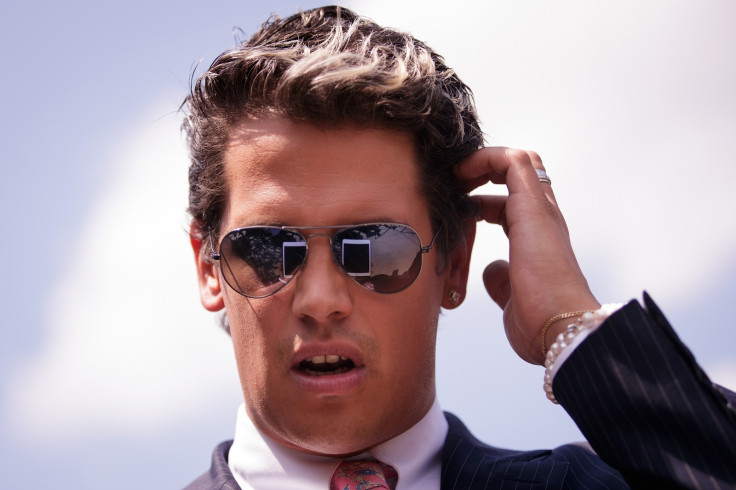 After the story broke, Yiannopoulos said his comments had been edited and taken out of context and insisted that he does not support paedophilia, describing it as "a vile and disgusting crime, perhaps the very worst."
He later apologised for his offensive remarks, writing on Facebook that he "deeply regretted" his choice of words and if his "usual blend of British sarcasm, provocation and gallows humour might have come across as flippancy, a lack of care for other victims or, worse, 'advocacy'."
Yiannopoulos is due to hold a press conference in New York at 3pm (8pm GMT).
© Copyright IBTimes 2023. All rights reserved.