Has Milo Yiannopoulos killed his career?
Breitbart editor Yiannopoulos has lost his book deal with Simon & Schuster and a CPAC keynote speech.
At the end of last week, Milo Yiannopoulos had a book deal with a major publisher, a keynote speech at the influential Conservative Political Action Conference (CPAC), and an editorship at one of the biggest right-wing websites in the world.
In just a couple of days, the controversial 33-year-old journalist and commentator, accused by his many critics of spewing hateful rhetoric about minority groups such as transgender people, had lost the book deal with Simon & Schuster, the CPAC speech, and his job at Breitbart. Why?
A video surfaced of him talking about the age of consent in a debate on The Drunken Peasants podcast in which he called it an "arbitrary and oppressive idea".
He also made a point of distinguishing between paedophilia and those who are under the age of consent but who have hit puberty.
Yiannopoulos said:
In the homosexual world, particularly, some of those relationships between younger boys and older men - the sort of 'coming of age' relationship - those relationships in which those older men help those young boys discover who they are and give them security and safety and provide them with love and a reliable, sort of rock, where they can't speak to their parents.

There are certainly people who are capable of giving consent at a younger age. I certainly consider myself to be one of them, people who were sexually active younger."

Paedophilia is not a sexual attraction to somebody 13-years-old who is sexually mature. Paedophilia is attraction to children - to children - who have not reached puberty. Paedophilia is attraction to people who don't have functioning sex organs yet, who have not gone through puberty, who are too young to be able to understand the way their bodies work. That is not what we're talking about.
There was a huge backlash as the video resurfaced as his many opponents seized the moment to attack him. What's more, some of his supporters even came out to state their disgust at his comments, though others claimed he was taken out of context. Yiannopoulos wrote on Facebook, defending himself:
I am a gay man, and a child abuse victim. I would like to restate my utter disgust at adults who sexually abuse minors. I am horrified by paedophilia and I have devoted large portions of my career as a journalist to exposing child abusers. I've outed three of them, in fact – three more than most of my critics...But I do understand that these videos, even though some of them are edited deceptively, paint a different picture...I'm partly to blame. My own experiences as a victim led me to believe I could say anything I wanted to on this subject, no matter how outrageous. But I understand that my usual blend of British sarcasm, provocation and gallows humour might have come across as flippancy, a lack of care for other victims or, worse, 'advocacy'. I deeply regret that...I do not advocate for illegal behaviour, I explicitly say on the tapes that I think the current age of consent is 'about right'. I do not believe sex with 13-year-olds is okay.
Yiannopoulos, who is banned from Twitter, has a huge following in the conservative world. He often gives speeches, which are met with protests if they even go ahead as planned, and went on a tour of colleges in the US. His talk at Berkeley in California was called off as violent demonstrations erupted around the college campus.
Most people tend to be unequivocal about sex with minors, especially the conservatives with whose support Yiannopoulos has enjoyed big success. But his status as the golden boy of internet conservatism now looks terminal because of his comments about consent.
The offer of a major platform at CPAC was quickly rescinded. Matt Schlapp, chairman of the American Conservative Union, which hosts CPAC, said:
We realise that Mr Yiannopoulos has responded on Facebook, but it is insufficient. It is up to him to answer the tough questions and we urge him to immediately further address these disturbing comments.

We initially extended the invitation knowing that the free speech issue on college campuses is a battlefield where we need brave, conservative standard-bearers...We continue to believe that CPAC is a constructive forum for controversies and disagreements among conservatives, however there is no disagreement among our attendees on the evils of sexual abuse of children.
A report in the Washingtonian said several journalists and editors at Breitbart, where Yiannopoulos is a senior editor, had given bosses at the hard-right nationalist website an ultimatum: either he goes or we do. An unnamed senior editor told the Washingtonian:
The fact of the matter is that there's been so many things that have been objectionable about Milo over the last couple of years, quite frankly. This is something far more sinister. If the company isn't willing to act, there are at least half a dozen people who are willing to walk out over it.
At a press conference called by Yiannopoulos, he announced his resignation from Breitbart. "I would be wrong to allow my poor choice of words to detract from my colleagues' important reporting, which is why today I am resigning from Breitbart, effective immediately," he said. "This decision is mine alone."
There was more bad news for Milo: Simon & Schuster cancelled plans to publish his book Dangerous, due out in 2017, "after careful consideration". The publisher had already run into heavy criticism when it first commissioned the book in January 2017, reportedly handing Yiannopoulos a $250,000 advance.
"While we are cognizant that many may disagree vehemently with the books we publish we note that the opinions expressed therein belong to our authors, and do not reflect either a corporate viewpoint or the views of our employees," said a statement from Simon & Schuster at the time, as some of its writers threatened to quit over the decision to publish Dangerous.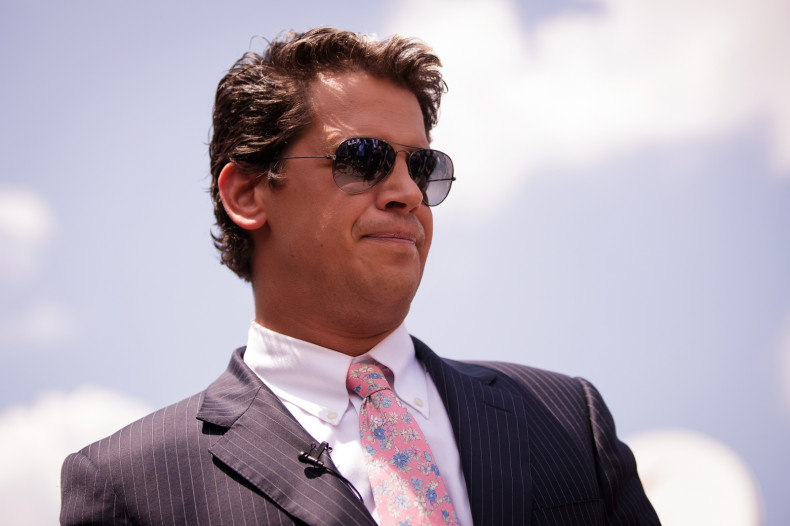 Yiannopoulos has survived scandal and controversy before. He has built his career and reputation on it. Arguably his lowest point so far was his failed media venture The Kernel, an online tech-focused magazine which collapsed under the weight of financial difficulties and left its writers unpaid for their work. The Kernel was later purchased by the Daily Dot and revived.
Yiannopoulos slunk away and went quiet for a while, before his renaissance on Twitter as an outlandish shock-jock for the digital age, doubling-down on his past record as a contrarian conservative and building a new image and a massive following on which he has capitalised since, chiming profitably with the emergence of Trump – who he supports – and the alt-right.
Yiannopoulos, who once said he would set up a college grant scheme for white male students, was made by riling up the left with his views. But all that work to craft his personal brand, winning him legions of fans on the right of politics in the western world, may have been destroyed by his own famously loose tongue.