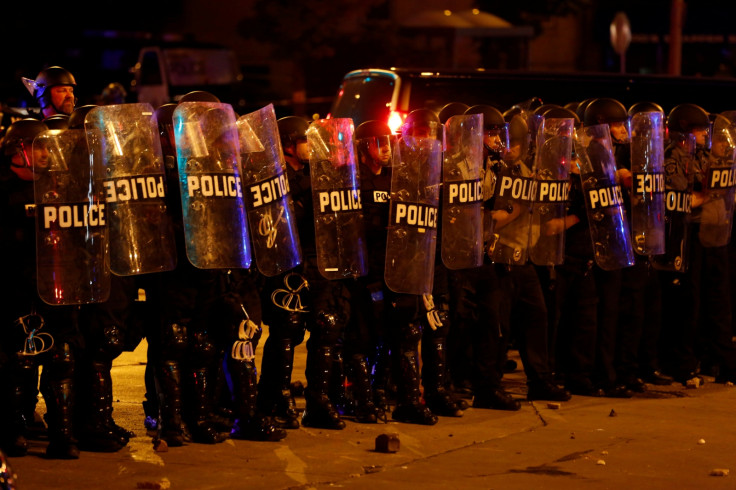 Milwaukee Mayor Tom Barrett issued a 10pm curfew on Monday, 15 August for the city's teenagers following a second night of violent unrest over the fatal officer-involved shooting of a black man. Barrett's announcement comes a day after Wisconsin Governor Scott Walker activated the National Guard to be ready if needed.
"After 10 o'clock your teenagers better be home or in a place where they're off the streets," Barrett told the city's residents. According to NBC News, tensions in the Sherman park neighbourhood remain high two days after the fatal shooting.
"This is not the place where you go to gawk, it is not the place where you go to take pictures, it is not the place to drive your car around," the mayor said. "Those individuals in my mind are deliberately trying to damage a great neighbourhood and a great city."
The second night of unrest did not bring a repeat of building burnings and property destruction, but one person was shot in the neck, police said. According to CBS News, officers used an armored vehicle to retrieve the injured victim, who was identified as an 18-year-old Milwaukee resident.
Police reported as least one vehicle was set on fire and shots were fired at several locations. Three squad vehicles were also damaged. Milwaukee police announced that four officers had been injured, a store had windows broken and 14 people were arrested.
There have also been reports that protesters are attacking journalists covering the unrest. In a video posted on Twitter, journalist Tim Pool announced he would be leaving Milwaukee due to the rising violence in the city.
"I am going to be leaving. I will no longer cover what is happening here," Pool said. "There has been rioting following the death of a man at the hands of the police. Buildings have been burned down, several arrests, officers injured. We saw rocks being thrown at cops, and it culminated with an 18-year-old white kid being shot in the neck yesterday."
The 30-year-old reporter said people shouted things such as "white people suck" and targeted reporters violently. "There's enough people who are screaming things about white people and reporters being attacked—and then hearing that it was a white kid who got shot, i think for those that are perceivably white, it is just not safe to be here, and that's why I'm deciding to leave," Pool said, according to The Hill.
New details regarding the shooting of 23-year-old Sylville Smith, whose death prompted the protests, also emerged on Monday. According to Fox News, an autopsy revealed Smith was shot in his chest and arm, backing the police's official account of the shooting. Officials say Smith was armed with a gun at the time of the shooting.