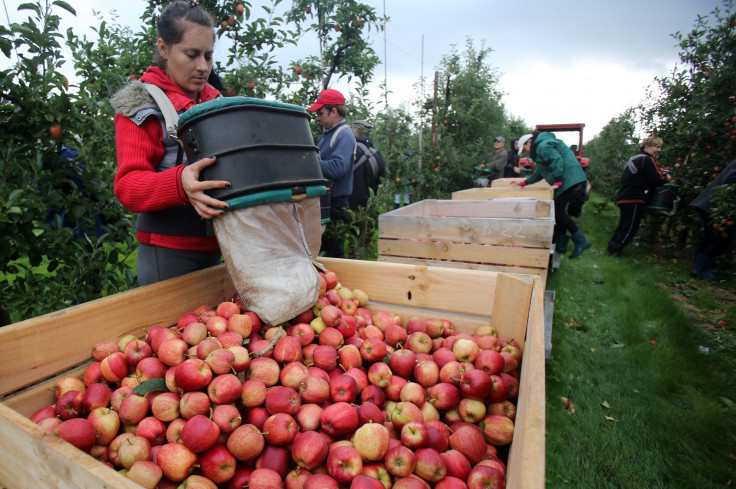 MPs are looking at plans to allow low-skilled migration when the UK leaves the European Union to avoid potentially damaging labour shortages.
Cabinet ministers told The Times that, while no decision had been taken, the government is looking at bringing back the agricultural workers' scheme which allows low-skilled migrants to pick fruit in summer.
Brexit secretary David Davis told a CBI dinner in Wales on Thursday (1 December) that the government would be ending free movement "as it has operated before", but added that, "We won't do so in a way that it is contrary to the national and economic interest.
"Britain must win the global battle for talent. No one wants to see labour shortages in key sectors," he said, according to The Times.
Sajid Javid, the communities secretary, has suggested that many sectors such as in construction, require EU migration to survive.
Also, the think tank Migration Watch said this week that a key workers' scheme might be needed to help employers to adjust to Brexit.
Signs of a softer Brexit emerged earlier on Thursday when Davis told the Commons that Britain could keep paying into the Brussels budget in exchange for access to the single market to ensure that the could "get the best possible access for goods and services to the European market".
But he was criticised by Ukip's new Brexit spokesman, Gerard Batten MEP. who said: "David is already going weak at the knees. It is ridiculous to offer to pay to trade with the EU. Every country in the world has access to the single market."
Meanwhile, the Office for National Statistics revealed immigration to Britain reached a new high of 650,000 for the year to June 2016, 284,000 of whom were EU migrants mainly looking for work.
The previous year, Romania was the biggest provider of immigrants to Britain for the first time. Official figures also revealed that 37,600 EU citizens secured British residency this year, compared with 18,700 previously.