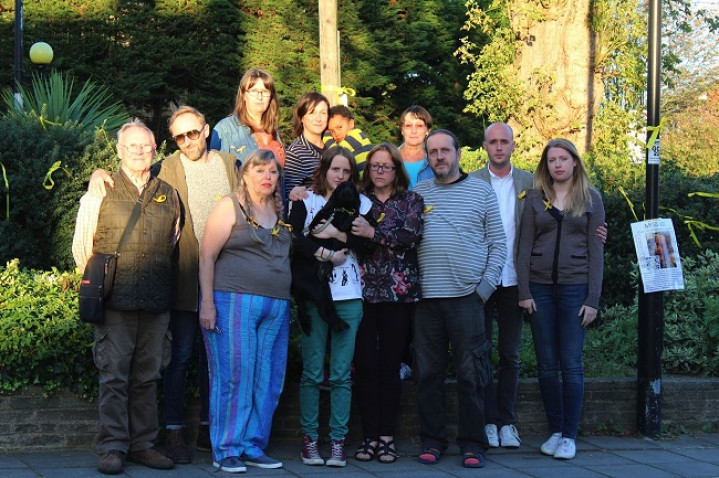 The family of missing Alice Gross has made an emotional appeal to the public to help find their beloved teenager who disappeared four weeks ago.
The community has come out in force – putting missing posters up and tying yellow ribbons to lamp posts - to assist police and the family in the hunt for the 14-year-old in what is being described as the largest search operation since the 7/7 bombings.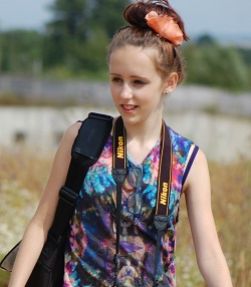 "We are appealing to anyone out there who knows anything about Alice's disappearance or where she is to come forward now," the family said in a statement.
"Alice has been missing for four weeks now. We are desperately concerned about her welfare and worry constantly about what may have happened to her.
"We are appealing to Alice. If you are out there, to come home where you belong. We love you and we miss you. We cannot believe that Alice is not at home with us and every morning brings new agony. We dearly love our daughter and Nina dearly loves her sister.
"Please, please help us."
She was last seen on CCTV walking along the canal towpath under Trumpers Way Bridge heading towards Hanwell.
A prime suspect in the case is Arnis Zalkalns, who was seen on CCTV cycling down the same towpath minutes after Gross was spotted. But the convicted murderer went missing on 3 September and officers have been sent to his native Latvia in an effort to trace him.
The Met Police have released a map of Alice's movements since she was last seen at 4.26pm on 28 August.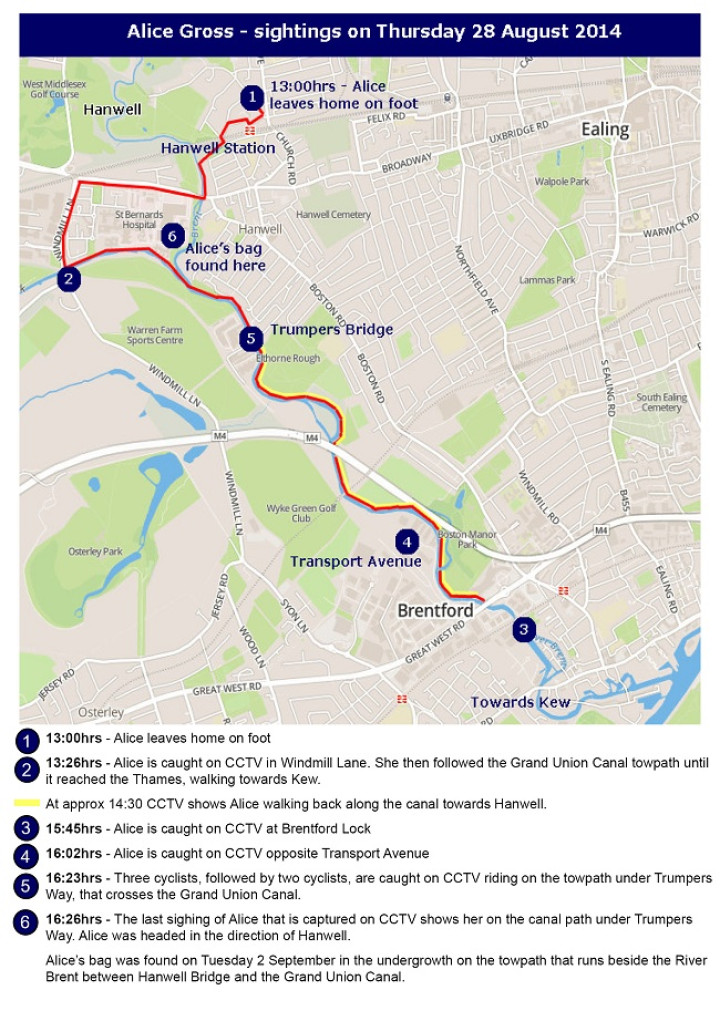 A £20,000 reward is now being offered to help find the teen.
Detective superintendent Carl Mehta said: "The public's support has been amazing, both from the local community and all the hundreds of people who have called in to give us information.
"We still need your help to find Alice and bring her home to her family.
"Today my appeal is simple. Alice was last seen on CCTV walking along the canal towpath, heading under Trumpers Way bridge towards Hanwell. Since 16.26 on that Thursday 28 August she has not been seen. Did you see Alice that afternoon? Have you seen her since? We need your help to find her.
"Just as Alice reached the bridge it started to rain heavily. Think back and try to remember if you were out and about in that area that afternoon. It was during the summer holidays and the canal is a really popular place locally.
"We know that Alice loved the rain, so she probably would have kept walking in it rather than seek shelter. There are many paths and turn offs from that canal towpath. We don't know the route that Alice took, so please think back to that Thursday four weeks ago and call us if you can help."
Alice is described as white, 5ft 2in tall and of very slim build with shoulder-length, light brown hair. When she left home that day she was wearing dark blue jeans and a dark t-shirt, and tartan framed glasses.
She was carrying a dark rucksack, and wearing denim blue Vans shoes, these shoes were in her rucksack when it was found by police on 2 September.