Staff at a tourist centre in Australia were left scratching their heads when a 10 metre mango was harvested from their grounds overnight.
CCTV footgage has emerged showing thieves armed with heavy machinery and cranes carrying out the heist in northern Queensland.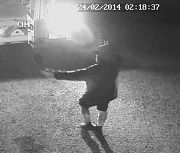 The famous fruit was unveiled at the Bowen Tourist Information Centre in 2002, and costed $90,000 (just under £50,000) to install.
Bowen Tourism chairman Paul McLaughlin thought it was a joke when he was first told about its disappearance.
He told the Australian Broadcasting Corporation: "It looks like it was sort of two o'clock this morning-type thing. There was ... some heavy equipment and it looks like they've taken the mango."
Mr McLaughlin was confident, however, it would be found.
He told the Brisbane Times: "At the end of the day it's a bloody big mango and I'm sure someone will see it and we'll find it anyway.
"I think it'll definitely turn up, no doubt about that. We're not sure what has happened but I'm sure we'll get it back."
The Big Mango is one of the 150 big fruit and animal sculptures located at tourist attractions across Australia. Bowen is known as the mango production capital of Australia.