Relatives of family members on board the missing Malaysia Airlines flight MH370 are still clinging on to hope that their loved ones are still alive, more than one year after the plane's mysterious disappearance while travelling from Kuala Lumpur to Beijing.
Many of them are jaded from previous false reports and conspiracy theories over what happened to the aircraft that are afraid of placing any hopes on the recent debris find on Reunion Island. Others however prefer to cling to the hope that as long as there is no wreckage, their loved ones are still alive.
MH370 disappeared with 239 people on board on 8 March 2014 shortly after taking off from Kuala Lumpur and diverting from its flight path.
Jacquita Gonzales from Kuala Lumpur, whose husband Patrick Gomes was a crew member on board the missing aircraft told BBC: "There are two parts, one is that [if] they have found the aircraft, then we can have some sort of closure. Then I can give my husband the peace that he needs.
"The other part is, no, let it not be true, because then we can still have hope that there is a chance the plane is still out there and they all can come home. We don't know yet, we are still on pins and needles," she said.
Jeannette Maguire from Australia shared the same frustration. Her sister Cathy Lawton and her husband Bob were on board the Boeing 777.
"We're all longing and waiting so much for any sort of news that is, you know, valid ... but when we get it I think it's going to be another emotional roller coaster as well."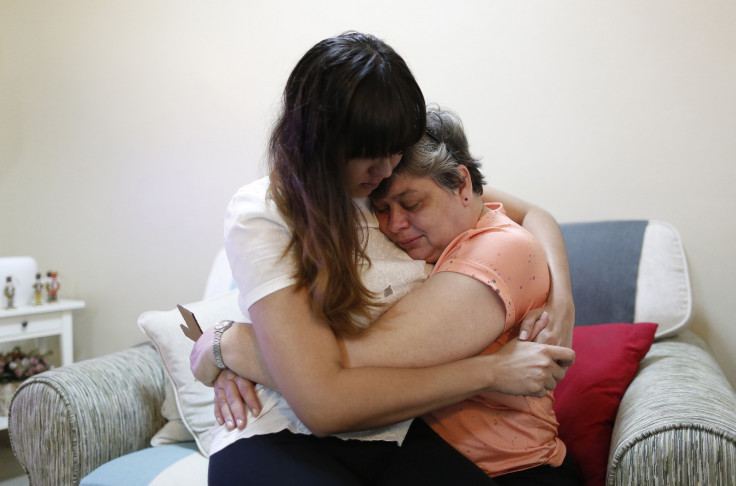 Malaysian Selamat Omar whose son Mohamad Khairul is missing continues to believe that his son is alive. "We need to find the main frame of the aircraft and the bodies. Until then I will continue to believe that my son is alive."
Grace Subathirai Nathan, whose mother Anne had boarded the flight said: "You just feel like you've been thrown back into that loop one more time, all over again. We are not ... taking it as the truth, because it's happened so many times before. We're wary of the information.
"I think we're also holding out hope until it's confirmed. We understand that there's a high likelihood that this might be it. But until then we still have to hold out hope," she said.
Sara Weeks from New Zealand whose brother Paul was on board the flight had mixed feelings like the others.
"I'm hopeful, in another respect, I'm not. I guess while you don't know, you still hope."
Weeks said: "We need to know what happened ... at least if it's confirmed as a part of the plane then we can go on to the next stage which is still pretty similar to where we were before – what happened, where's the rest of the plane and where's my brother?"
Ghyslain Wattrelos, a French businessman whose wife and two children were on the missing flight told French BFMTV that the debris find was "extremely painful."
"This doesn't give hope, this is a moment I have been fearing," he said, Reuters reports. "As long as there wasn't any evidence of a crash, of wounded or dead or whatever, there was a little glimmer of hope for us."
Intan Maizura Othman, wife of steward Mohamed Hazrin Hasnan told teh New Straits Times: "Honestly, to tell you the truth, I do not feel anything. Whether MH370 or not, to me the plane did not crash so you can say whatever you want to say, I still believe it didn't crash."
Relatives in China sceptical over debris find
In China, relatives told The Straits Times that they were sceptical that the latest find was linked to the missing aircraft. A total of 153 of the passengers on board the missing flight were Chinese nationals.
"Our hopes have been raised so many times only to be dashed," Jiang Hui, whose mother Jiang Cuiyun, 71 was on board the flight.
"We believe this is not an ordinary aviation mishap but the work of a conspiracy. The plane could have landed elsewhere first and then met with mishap after flying again. Or the wreckage could have been intentionally discarded there to deceive us. We need to see all the evidence to know the true story," he said.
Yang Rong, 28, whose husband Wang Yongqiang, 29 was on the flight told the newspaper: "There's been so much fake news about MH370 being circulated and even officials cannot confirm that it's the plane."
She said if the debris found is confirmed to be part of MH370, family members may make arrangements to fly to the French island.
"We will need to see it to believe it. We cannot take their world for it after all that has happened. Till then, I'm hoping that it's not MH370 because I believe my husband is still alive. Until I see his body, I will not give up." Yang's husband worked as a construction worker in Singapore.
The MH370 relatives in China, in a statement urged the Malaysian Airlines to restart the family support centre and resume help in counselling and reimbursement of expenses.