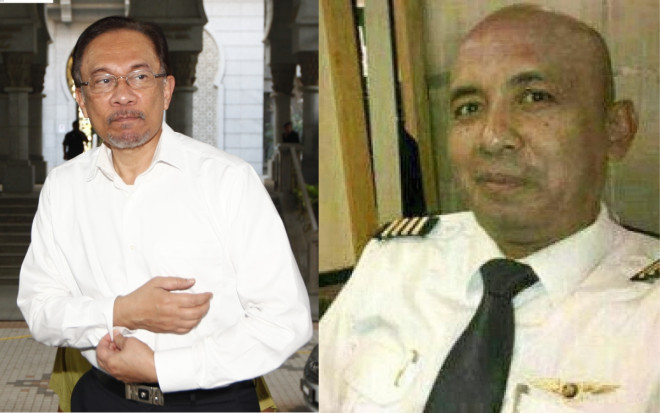 Amid speculation that the bitter political rivalry between Malaysian Prime Minister Najib Razak and Anwar Ibrahim could be behind the disappearance of Malaysia Airlines flight MH370, it has now emerged that the chief pilot of the aircraft, Zaharie Ahmad Shah, had campaigned for the opposition party in the last general election and had enrolled himself as a life-time member of the party.
The 12 crew members, particularly the two pilots of the missing aircraft, are under intense scrutiny following the confirmation that there was foul play in the incident.
After it was speculated that the pilot was present during the trial of Ibrahim, following which he got a five-year jail sentence for sodomy charges, his People's Justice Party, aka Parti Keadilan Rakyat (PKR) has admitted that Shah campaigned for the party. The flight piloted by Shah went missing seven hours after the controversial trial.
Speaking at a press conference in Malaysia, the party's lawmaker from Subang division Sivarasa Rasiah said: "He [Shah] was a PKR member since 23 Jan last year and campaigned for us during the general election but this is irrelevant to the case."
Referring to the Daily Mail report, Sivarasa said: "The two claims were used to label him as a 'political fanatic' but that conclusion should not be made as they are based on unverified claims. He [Shah] was like the million other political party members out there."
"If the police want to meet me and ask about his [Shah's] background, I am prepared to help, this is not a party matter."
However the party's spokesmen insist there is no connection between the missing flight and Shah's political affiliation.
"We hope all parties, including the media and political parties including the ruling coalition, to respect the family and passengers of MH370. Do not make too many assumptions which could affect the investigation and hurt the feelings of family members. For us, we do not want to get into polemics of finger-pointing," the party's vice-president Tian Chua, who was also present at the press conference, told reporters.
The investigators have emphasised they are not ruling out any angle as they are closely examining the personal and psychological profiles of all the crew members as well as the passengers.