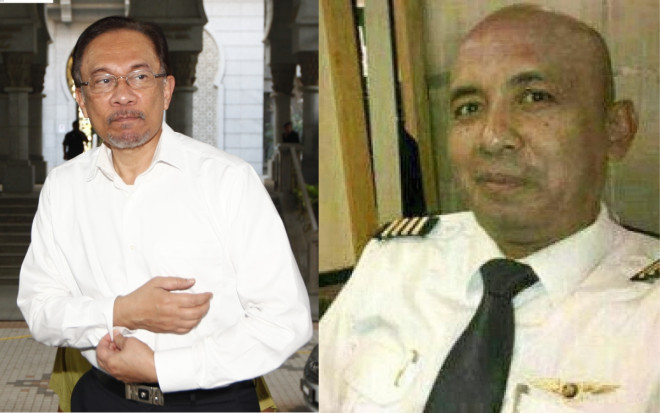 Bitter rivalry among two prominent Malaysian politicians is also being speculated to be behind the abrupt disappearance of Malaysia Airlines flight MH370 as the pilot's strong affinity towards jailed opposition leader Anwar Ibrahim emerges.
The Boeing 777, piloted by captain Zaharie Ahmad Shah, went off the radar seven hours after key opposition political leader Ibrahim was given five years jail sentence for sodomy charges.
The Daily Mail reports, citing unidentified sources, that Ahmad Shah was present during the controversial trial, prompting the investigators to scrutinise whether the plane was hijacked as a political protest by the pilot.
The trial and the sentence against Ibrahim have been labelled as a smear campaign by critics of the ruling party, led by Malaysian Prime Minister Najib Razak. Shortly after the sentence was pronounced Razak was criticised for resorting to "dirty political tricks" to crush the opposition leader.
The sentence was internationally condemned including by the US, Human Rights Watch and Amnesty International, calling the trial politically motivated.
In the face of a backlash from the local Malay community against Razak over the trial, the focus immediately turned to the missing flight as it disappeared from all radar screens within hours of the verdict.
Ibrahim's People's Justice Party, aka Parti Keadilan Rakyat (PKR), has categorically denied such links between the pilot and the opposition leader.
Without directly addressing the allegations, the party's communications director Fahmi Fadzil poured scorn on "the wild allegations" carried by the British paper, dubbing it "a sensationalist tabloid known for cooking up stories".
"These allegations are wild speculation for the moment. If there is a concrete data backing up an allegation we will respond to it. If anyone aboard (the flight) chose to attend the Anwar trial that is their right as it was in open court. We do not want this to be used by unscrupulous parties as an avenue to attack PKR or Pakatan Rakyat component parties," the party's spokesperson told a local daily the Star Online.
When asked whether the pilot was an active member of the party, Fadzil refused to answer saying he does not know him personally.
The latest allegations surface as the probe into the incident increasingly focuses on all the passengers on board, especially on the two pilots. The Malaysian premier has confirmed there is definitely foul play involved with the help of someone aboard the plane, presumably with extensive knowledge of the flight.
As the search for the missing the aircraft enters its second week, there are still no clues about the missing plane and the hunt is continuing.