The Duchess of Cambridge is missing her eldest child Prince George's first day at school due to suffering from hyperemesis gravidarum – an acute form of morning sickness which she endured through her last two pregnancies.
Kate Middleton's ailment will no doubt be frustrating to the royal as she skips out on the biggest day of her four-year-old's life so far, but father Prince William was there to hold George's hand.
The Duke of Cambridge, 35, accompanied a resistant George to his new school Thomas's in Battersea as the pair were met by the Head of Lower School, Helen Haslem, who escorted Their Royal Highnesses to the tot's reception classroom.
Kensington Palace released some adorable pictures of the special moment, including a snap of George shaking Ms Haslem's hand while looking smart in his brand new school uniform of a red-trimmed navy v-beck jumper, light blue shirt, shorts, socks and black shoes. Doting father William held his school bag and chatted to the teacher as they held little George's hands.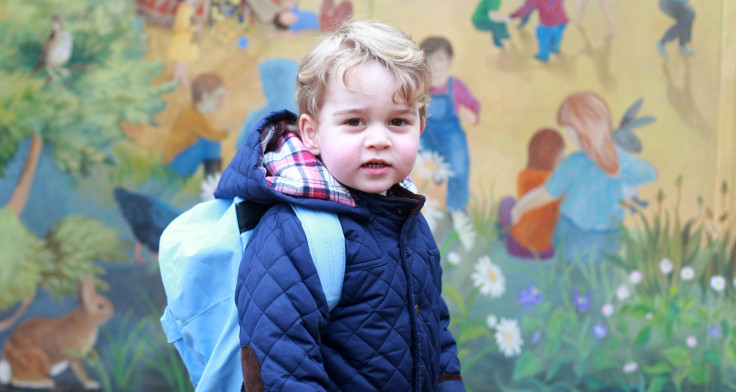 The Palace said: "Prince George arrives for his first day of school at Thomas's Battersea with his father The Duke of Cambridge.
"TRH were met by the Head of Lower School, before The Duke took Prince George inside to his reception classroom," they added.
The Palace also shared a few photos of Diana, Princess of Wales with William and Harry in similar school uniform on Twitter, with the late royal wearing a bright red outfit of an oversized sweater and a pleated skirt.
Middleton, 35, was due to make a late decision on joining William this morning as their son embarks on his education, but was confirmed too unwell to drop off George. She previously said that she is not sure George "has any idea what's going to hit him," and judging by his disgruntled facial expression this morning, she was right.
George is thought to be one of the youngest in his year and is expected to have a gentle introduction to what is likely to be an exhausting first term at school.
He will spend his first day getting to know his new teachers and making new friends as well as completing the important task of finding his classroom peg.
George's new school is mix-sexed and offers "a rich and broad education which inspires enjoyment, learning and achievement" at a price of £6,000 a term. The most important school rule is to "be kind" and despite being primarily Christian, is open to children of all faiths.
Although the school has a Kensington branch nearby their royal residence, the Duke and Duchess of Cambridge have chosen the middle-class south west London area for their first-born son to begin his education.