MIT students create Spyce, a robotic kitchen that can serve up fresh meals in under five minutes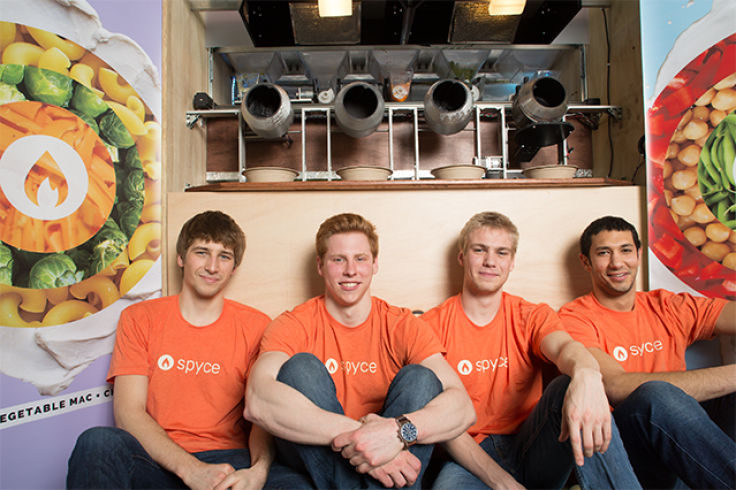 Automation in the food industry has evolved far beyond the usual conveyor belts, labelling and packaging machines in recent years. From briskly serving up noodles and delivering pizza to employing artificial intelligence robots in restaurants, robots seem to be the way of the future in the service industry when it comes to dishing out fast, efficient food.
Now, a group of engineering students at the Massachusetts Institute of Technology (MIT) have invented a completely automated mini-restaurant that delivers quick, fresh meals in a few minutes.
Dubbed Spyce Kitchen, the all-in-one, completely automated kiosk features a refrigerator, stove-top, dishwasher and a robotic chef that can both cook and serve food. Taking up just 20 square feet of space, the mini-restaurant uses fresh ingredients to whip up an entree in under five minutes.
Spyce Kitchen is already currently in operation in an MIT dining hall and can serve up a pretty diverse array of delicious meals including shrimp andouille jambalaya, winter veggie mac and cheese, chicken-bacon sweet potato hash, chilli-lime beef with sesame rice and chickpea coconut curry on couscous.
Patrons can even customise the ingredients, sauces and serving sizes. The kitchen's fresh ingredients are stocked by the Spyce staff every day.
After placing your order via a touchscreen or a companion smartphone app, the ingredients are automatically measured, dispensed onto a conveyor belt and transported to one of four rotating barrels that automatically mix and cook the ingredients. The robotic kitchen's various sensors track the food's temperature and quality.
While the pot is busy working on your food, all you have to do is grab a bowl and place it under the cooking pot and wait for it to serve up your meal. Once that is done, the pot makes it way down a conveyor belt to the sink and cleans itself. The automated system can also prepare two meals at once.
Developed by Kale Rogers, Michael Farid, Braden Knight and Luke Schuelter, the invention won them the $10,000 "Eat it!" Lemelson-MIT undergraduate prize - an award for the top two collegiate inventors in food technology in the US.
"Our vision is to transform the meaning of fast food," the team told Tech Insider in an email.
The students hope to bring the automated kitchen to other Boston schools, following USDA and FDA approval.
While there is potential for robots and AI to streamline the fast food business, the idea has faced its own set of challenges when implemented. A few restaurants in Guangzhou, China, were recently forced to fire their entire robot staff for their incompetence.
Still, many fast food giants are examining the promise of cheaper, efficient labour through robots and AI-powered systems.
KFC, in partnership with Chinese search engine giant Baidu, just opened a new KFC restaurant run entirely by AI robots in Shanghai. Earlier this week, Pizza Hut Asia partnered with MasterCard to deploy robotic waiters in its restaurants in Asia by the end of 2016.
© Copyright IBTimes 2023. All rights reserved.