With spring fast yielding to that balmy summer feeling, the urge to step away from the monochromatic work wardrobe leaves us longing for some upbeat print to perk up the office, and Kate Middleton is the fashion role model to look up to for inspiration.
Stepping out after the weekend of celebrations for the Queen's 90th birthday, the Duchess looked a picture of printed perfection in a bold, graphic midi-skirt in contrasting blue hues by US brand Banana Republic.
Joining husband William, the Duke of Cambridge and brother-in-law Harry, Middleton headed to the launch of the Heads Together campaign at the Queen Elizabeth Olympic Park in east London, to raise awareness about mental health.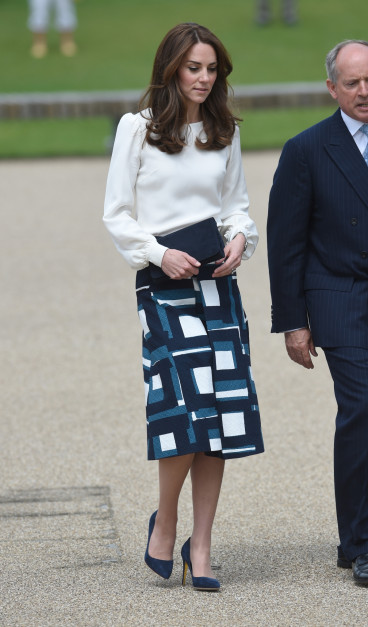 A great advocate for British designers, Middleton paired her skirt with an elegant ivory blouse by UK brand Goat renowned for its cashmere basics and founded by designer Jane Lewis in 2001.
Banana Republic, the mid-market high street store owned by Gap, have long been the go-to for workwear essentials but an endorsement from the Duchess will no doubt be sending a few more women to their aisles. Given Gap's falling profits lately, this could not come at a better time.
The Binky blouse by Goat that was seen on Kate is unsurprisingly currently sold out in ivory but is still available in black for £290, whilst the A-line skirt with central pleat from Banana Republic is no longer on sale. Straying from her stalwart nude LK Bennett courts, the mother-of-two co-ordinated her outfit perfectly adding navy suede leather stilettos.
What Kate Middleton does so effectively is consistently mix high street and high-end brands with ease, making her outfits achievable as well as admired for those who want to emulate her style. Another key part of the duchess' style is her recycling of older seasonal pieces. Something ordinary folk would do in a heartbeat but when constantly in the public eye, this is a smart move for someone who wants to remain simple and accessible.