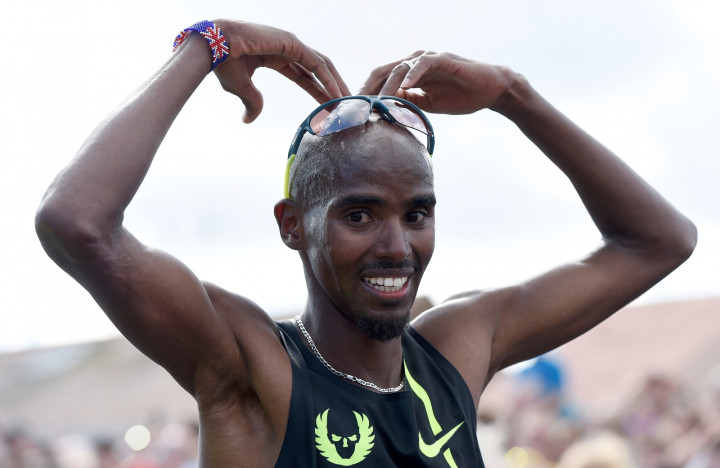 Mo Farah held off Mike Kigen in a thrilling sprint finish to become the first British winner of the Great North Run since 1985.
Farah avenged his loss to Kenenisa Bekele in 2013 to storm to victory in a personal best time of exactly one hour ahead of Kigen, who led for long periods, while Olympic and world marathon champion Stephen Kiprotich was third.
The 31 year-old Olympic, world and European champion on the track made a winning return to the road after his second place finish at the New York half marathon – after which he collapsed – and an eighth-place finish in the London Marathon in April.
"It feels great. I've had massive support from the crowd," he told BBC Sport. "I had to dig deep. Kigen is a great athlete and he just kept pushing and pushing and pushing, but I was thinking I had to hang in and in the end I had just a bit more speed.
'It's just me and you'
"Our [me and Kigen] aim was to get rid of them [the main pack] and try and run for ourselves, run comfortable and then come home strong. Once we dropped everyone I was thinking 'all right Kigen it's just me and you'.
"He put his foot down and kept pushing and pushing and there was a time when I was thinking 'one more mile, two more miles' but I just had to dig in.
"Early on I was thinking anything around 60 minutes but I didn't think I would run that fast. It's great to finish the season with a win and a good time and I can take my break and relax now.
"With 200m to go, I kind of pushed and as soon as I went to celebrate I saw him on the inside. I've learned a lot, particularly this year you learn a lot when something happens.
"This year has been up and down, but I've put that behind me and I've managed to get two wins. I can take a break now and get ready for the world championships in Beijing. I've just got to stay injury free and prepare for those big races.
"It's too soon to say [what my plans are for the world championships]. I'll do the 10,000 and we'll see how I go after that. Early on in the season I'd like to be able to run a good time, lay a marker down and get ready similar to what I did in 2011.
"It was really important to me [to win two golds at the European Athletics Championships]. I'd pulled out of the Commonwealth Games and I didn't even know if I was going to do the Europeans but I put that behind me."
The 34th year of the Great North Run, the largest half-marathon in the world recognised by the IAAF, will later see its one millionth finisher in the amateur race.