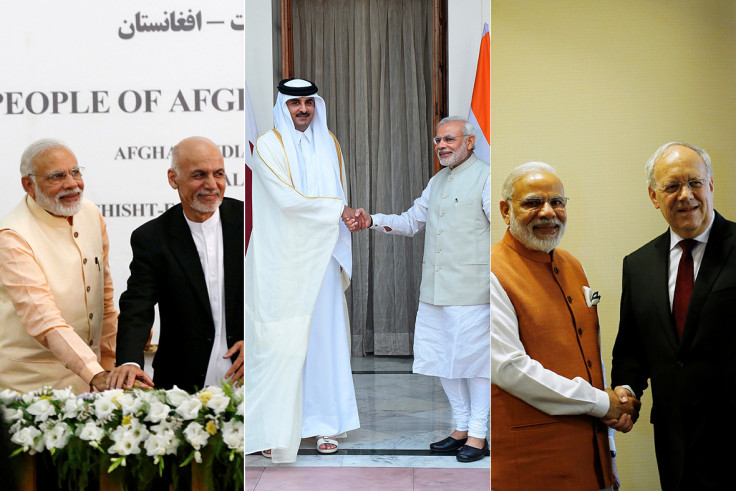 Prime Minister Narendra Modi has been hailed as a "Vishwa Nayak" (world leader) during the first three legs of his first-nation tour. The Indian leader has visited Afghanistan, Qatar and Switzerland and is expected to depart for the United States shortly, before concluding the tour in Mexico.
The hashtag #VishwaNayakPM was trending on Twitter across India on 6 June, with thousands of Indians commending the outcome of the five-nation trip so far. The highlight of Prime Minister Modi's tour will come when he addresses a joint session of US Congress on 8 June, however, there have been other key agreements signed with other countries already.
IBTimes UK rounds up everything you need to know about the Prime Minister's five-nation visit so far.
Afghanistan: Awarded the highest honour
On 4 June, Prime Minister Modi was awarded with Afghanistan's highest civilian honour, the Amir Amanullah Khan Award. Afghanistan President Ashraf Ghani presented the award to the Indian leader during the inauguration of the landmark Afghan-India Friendship Dam in Herat, on the western tip of Afghanistan.
The award reflects Afghanistan's appreciation towards the Modi government for building the Salma Dam, worth Rs. 1,700 crore. The dam is expected to irrigate 75,000 hectares of land and generate 42 MW of power.
During his time there, Prime Minister Modi said: "This dam has not been built by bricks and mortar, but by the faith of our friendship and the valour of Afghans and Indians. And, at this moment of pride, we also stand in grief and gratitude for lives sacrificed so that Afghan people will have a future they so richly deserve and so deeply desire."
Qatar: Cooperation on money laundering and terrorism
On 5 June, India and Qatar signed an agreement to share terrorism intelligence, as well as combat money laundering and terror financing. Prime Minister Modi and Emir Sheikh Tamim bin Hamad Al Thani agreed to "isolate" sponsors and supporters of terrorism, noting that action needs to be taken against those who use terrorism as policy.
During the trip, an MoU was signed between the Finance Intelligence Unit-India (FIU) and Qatar Financial Information Unit to share intelligence on the illegal movement of money. The Economic Times reports that numerous black money probes have led Indian authorities to Qatar and the MoU has been designed to begin combating these offences. Terrorism financing and other economic offences will also fall under the intelligence sharing agreement.
An MoU was also signed between the Ministry of External Affairs for investment and Qatar's Investment Authority. Furthermore, Prime Minister Modi met with business leaders in Qatar and promised to look into the issue of bottlenecks hindering investments.
Switzerland: One step closer to Nuclear Suppliers Group membership
Prime Minister Modi met with Swiss President Johann Schneider-Ammann and described Switzerland as being India's key partner in Europe. In a huge boost for India, Switzerland announced their support for New Delhi's membership to the Nuclear Suppliers Group, which Modi has been attempting to secure.
It was widely expected that the Indian Prime Minister would raise the issue of black money stored by Indians in Switzerland's banks. Modi was also expected to meet with key businessmen in the country in an attempt to expand economic and investment ties.
Ahead of his visit to Switzerland, Modi added: "I will meet Indian scientists working at CERN. India takes pride in their contribution to exploring new frontiers of science in the service of humanity."