Mogadishu under attack: 10 Killed as Al-Shabaab militants storm Somalia's Higher Education Ministry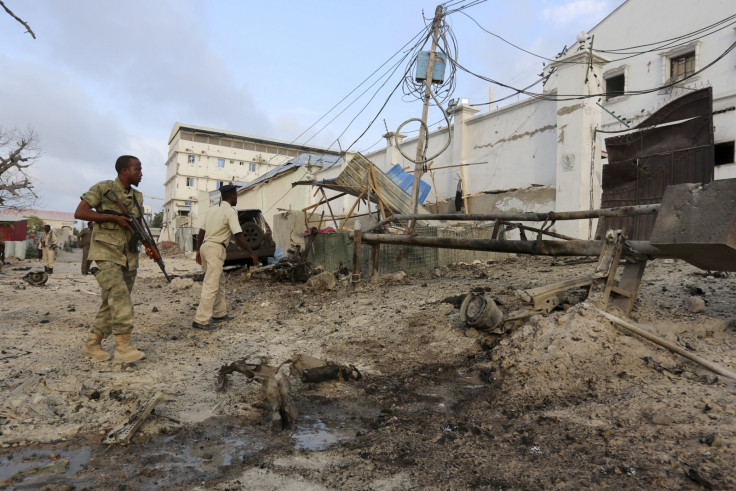 Suspected Islamist militants have attacked the Higher Education ministry in Somalia's capital Mogadishu, just two weeks after the al-Shabaab attack on Garissa University College in Kenya.
The militants assaulted the building with a car bomb followed by heavy gunfire and another explosion. The ministry, which is guarded by the Amisom (African mission in Somalia), is near Somalia's police headquarters in the capital.
Armed guards at the ministry are fighting back to retake the building from militants, according to witnesses.
A spokesman for al-Shabaab said the group is behind the attack.
Journalists and witnesses reported of eight dead:
Last month, 17 people were killed and more wounded after the Islamist gunmen stormed and occupied a popular hotel in Mogadishu, following a suicide bombing. Somali troops ended the siege after 12 hours. The Somali ambassador to Switzerland Yusuf Baribari is among the dead.
The group, which pledged alliance to al-Qaeda in 2012, aims to overthrow the current Somalian regime and impose its strict version of Sharia law.
The insurgents controlled Somalia's capital Mogadishu from 2006 until 2011, when they were defeated by Kenya-led African Union peacekeepers.
UPDATE: An official source inside the government of Somalia told IBTimes UK that 10 people died outside the ministry's gate, after a suicide car bomber detonated his vehicle at the gate of the office complex. The source also said that two or three militants participated in the attack.
Earlier, a police officer confirmed that at least five people, including one African Union (AU) soldiers, were killed in the al-Shabaab attack.
"So far we confirmed five dead people including, one AU soldier, one government soldier and three civilians," Colonel Hussein Ibrahim, a police officer, told Reuters, adding that 10 others were injured.
Two Islamist militants were also killed.
© Copyright IBTimes 2023. All rights reserved.