A moped gang raided the Apple store in central London in the early hours of Monday 13 November. The thugs got away with thousands of pounds worth of Apple iPads, laptops and watches from the Regent Street shop.
Police are on the hunt for ten suspects, who used five scooters to carry out the attack. One of the vehicles was driven through the glass doors of the iconic retail building as the raid began.
Some of the looters then threatened security guards with hammers while their associates filled up on high-end goods before they all scarpered away together.
They were estimated to have been in the store for two to three minutes.
In a statement, the Met told IBTimes UK its officer's were called at 12.45am and that two iPhone Xs, thought to be related to the attack, were later recovered in Kings Cross.
"A security guard in the store was threatened with a hammer as he tried to stop the suspects. The mopeds then made off within a couple of minutes northbound along Regent Street," the statement said.
"The suspects are described as wearing dark clothing. The man who threatened the guard was described as a black man," it added.
The Met are now appealing for witnesses as there were plenty of people in the area when the brazen raid took place last night. CCTV footage will also be crucial to their investigation.
The Evening Standard reported that one of the scooters had been left behind by the gang, and that forensic teams are now scrutinising it for evidence.
London is in the grip of a moped crime epidemic as gangs of predominately young men and boys terrorise tourists, locals and businesses with high-speed criminal tactics.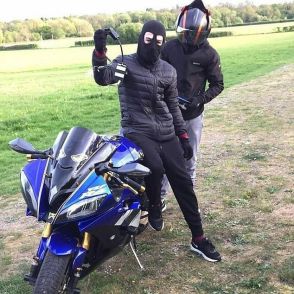 The Apple store on Regent Street opened as usual this morning and there was no evidence of the break in and subsequent burglary.
Anyone with information is asked to call police on the police non-emergency line on 101 or anonymously on Crimestoppers 0800 555 111 or by tweeting @MetCC.