A sharp-suited City worker strolls along a quiet pavement in London's financial district, one of the wealthiest (and safest) corners of the world.
He has one hand in his pocket while the other idly taps a mobile phone screen held casually out in front of him. Little does he realise, he is about to become another statistic in a new crime wave on London's streets.
Five seconds later: the phone is gone and the man is shouting after it with a mix of fury and bewilderment. He has just become the latest victim of the muggers riding quick, nimble mopeds now causing fear and mayhem in the UK capital.
Video footage of that incident, captured in February this year on CCTV, is just one many clips disclosed by the Metropolitan Police depicting the terrifying trend of thieves and robbers that 'rush' their victims on mopeds.
Figures released by the Met earlier this year showed there were 9,029 crimes where the suspect was riding a moped or motorcycle – a 750% increase on 2014's total of 1,053.
A series of shocking clips have emerged in recent months showing the lengths this increasingly brazen breed of criminal will go to in order to snatch other people's property.
Perhaps most disturbing was an incident in Streatham, a suburb in south London, earlier this month when a woman was dragged along the road by moped-riding thieves after refusing to let go of her handbag.
The CCTV footage was uploaded to Facebook by the Met's Merton branch with a statement that said the woman had sustained injuries that were non-life threatening during the attack. Miraculously, she managed to keep hold of her handbag.
Last week (21 June), Merton Police identified moped robberies at the top of a list of crime trends in the area, adding that the victims were typically "lone women".
The force said: "Moped crime is one of Merton's key targets and are actively doing everything we can to clamp down on the illegal usage of mopeds. If you have information about someone who is using mopeds illegally, then call us on 101 and tell us anonymously and we will act upon it."
On 30 April a male tourist walking down so-called 'Millionaires Row' in Mayfair had his leg broken when he was mown-down by a moped gang, who then surrounded him and stole his expensive watch.
Armed and dangerous
Often marauding moped gangs do not need to use their vehicles to attack victims – instead, they come armed with weapons.
Last month, there were reports of men on bikes waving machetes as they sped through pedestrianised parts of Battersea near Thomas's School, where fourth in line to the British throne, Prince George, will begin his education in September.
Locals told the Evening Standard they were being terrorised "every other day" by gangs. CCTV footage supports their claim, showing two motorbike riding thieves breaking into a parked car with a hammer on Battersea High Street in broad daylight.
The terrifying episode was not an isolated incident. In May, a gang of four men ran riot in the West End, waving hammers and a crowbar at horrorfied tourists.
Witness Alex Lentati told the Standard: "As the bike got closer it rode at me on the pavement, then whizzed past me on the inside next to the wall. The audacity of it was that another one turned up and then they went round the block and came back again tearing down Great Portland Street.
"When they came round the second time one of them brandished the hammer, like they didn't want anyone to chase them or get close. It felt very brazen."
Moped-enabled armed crime is not restricted to high-street muggings. The agile vehicles are also a perfect getaway ride for a more conventional burglary as this CCTV footage from August 2016 shows.
Unfortunately for the axe-carrying gang, the Metropolitan Police had received a tip-off and were waiting inside the Piccadilly Jewellery store, ready to pounce. All four members of the armed gang were jailed.
In the absence of such intelligence, police face a tactical conundrum when it comes to fighting this high-speed type of criminal. Met officers have to adhere to a strict set of guidelines when engaging in vehicle pursuits.
The importance of these rules was thrown into sharp relief following the death of 18-year-old Henry Hicks in December 2014. The teenager crashed his motorcycle after being chased through North London by unmarked police cars after he was suspected of selling drugs. He was found with seven bags of cannabis in his possession.
Superintendent Mark Payne told the Evening Standard that some suspects recklessly remove their helmets to force police cars to keep their distance, adding: "That's a result for us. They will drive past five or six CCTV cameras and we will have his face. We know who they are and there is no point in pursuing them.
"We will bang on their door at 3am when it is low risk, why should we bother chasing them through the streets of London."
In a bizarre turn of events, two policemen acting as bodyguards to Labour Leader Jeremy Corbyn had to come to the rescue of an elderly woman being threatened with a knife by a moped riding pair in North London on 30 May.
The officers drew their handguns, forcing the passenger to drop the blade. The pair then sped off and have not been caught.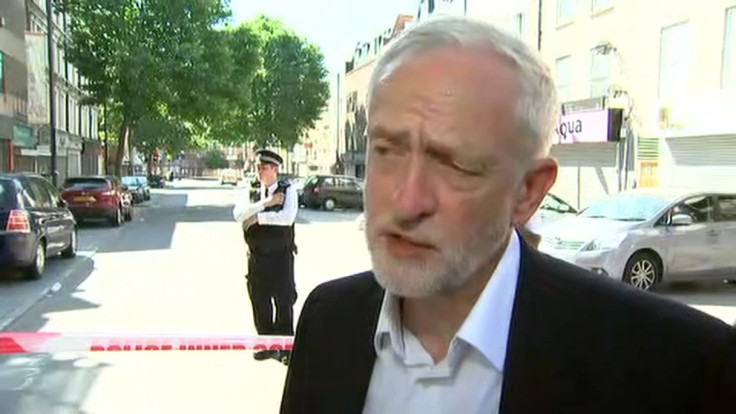 The crime behind the crime
The high-profile spate of moped-enabled thefts has garnered more headlines than its sister crime in which thieves steal parked mopeds from the streets of London, often to commit further misdeeds with.
Thefts of mopeds and motorbikes surged to 14,938 in 2016 – a 55% increase on 2014, when there were 9,660 incidents.
Police believe that the two trends are related: a new double edged criminal culture has emerged whereby thieves steal motorised vehicles and then use them as speedy getaway engines for high street muggings.
Shocking footage uploaded to YouTube on 1 June appears to show two men stealing mopeds in broad daylight near Cable Street, east London,
The brazen pair seemed unperturbed by the many drivers and pedestrians that can see them using hammers to smash the locks of mopeds parked outside offices. Only when they realise they are being filmed do they become threatening.
Now the Met are encouraging moped owners to beef up the security methods they employ when locking up their vehicles in the capital.
Visor Down is an attempt to educate motorcycle and scooter owners about protecting their rides from the growing number of criminals that have come to regard them as easy pickings.
The promotional video features a moped thief saying, "If it's got two locks on it, I ain't even looking at it."
Speaking at the campaign launch on 23 June, Metropolitan Police Commissioner, Cressida Dick said: "This campaign is about encouraging scooter owners to do everything they can to adequately secure their vehicle against its theft and its subsequent use to commit thefts and violent robberies against the public."
Dick added: "Police are working hard to make the streets hostile territory for reckless criminals who endanger lives, but it is the easy availability of scooters that is driving the rise in scooter enabled crime. So, I urge all riders: properly secure your scooter to reduce its risk of theft. If everyone plays their part, we can thwart these thieves."
Stay aware
It is very unlikely we have seen the last video of an unsuspecting Londoner being caught unawares by armed muggers riding a stolen moped. The Met's appeal for public assistance in preventing moped theft and, by consequence, moped-enabled crime, reveals just how uphill they believe the battle to be.
No part of London is immune to these marauding gangs, armed with axes, hammers and knives –including leafy Battersea and grandiose Mayfair.
These videos show the lengths they will go to to acquire other people's property, showing little regard for human life. Anyone walking the streets of London is vulnerable.