A new security threat targeting Facebook users throughout the world is now reportedly on the prowl. The latest Facebook threat is termed 'Facebook Color Scam' by researchers at Cheetah Mobile, who are credited with having detected the threat.
'Facebook Color Scam', once infected, attacks and compromises users' Facebook accounts, thus granting cyber-criminals free access to data such as personal information, contact details of friends/relatives, and even monetary details of users' recent financial transactions (that are made by supplying users' Facebook id to third-party vendors).
Basically, 'Facebook Color Scam' targets vulnerable FB users in the form of an application termed 'Facebook Color Changer', and affects both mobile and PC users alike.

According to engineers at Cheetah Mobile, the malicious application masquerades as a genuine application, and claims to help users in changing the colour of their Facebook layout. The application claims to offer 'enhanced personalisation' to FB accounts, but in turn, offers exposure to hackers and cyber-criminals.
Engineers at Cheetah Mobile state that Facebook's coding itself is yet to address certain vulnerabilities, with which hackers can inject malicious code within Facebook-based apps to lead users to phishing websites.
The 'Facebook Color Changer', once installed and activated, leads FB users to malicious websites that attack users using two mechanisms.
The first mechanism is via stealth, using which users' Facebook 'Access Tokens' are stolen by cyber-criminals. The malicious websites ask users (redirected to these sites) to view a tutorial that claims to detail the 'Facebook colour changer' mechanism.
Once users consent to view the tutorial, various backdoors can be opened by hackers with which temporary access to users' FB friends is enabled.
The second mechanism employed by the malicious websites, is the infected application.
"If a user doesn't view the 'Facebook Color Changer' video, it then tries a new way to spread the malicious software, by getting consumers to download a malicious application.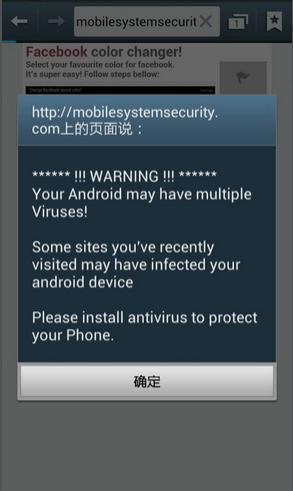 "If a user is on a PC, the site leads them to download a pornography video player. If the user is on an Android device, it issues a warning saying the device has been infected and advises users to "download now" a suggested app," warn security experts at Cheetah Mobile.
In summary, when users are being redirected to the malicious websites as explained above, they are tricked (by hackers) to believe that they are currently visiting 'apps.facebook.com/themsandcors' link, by the 'Facebook Color Changer' application.
At this point in time, it is imperative to note that Facebook had become the victim of similar 'Color Change' scams in the past, but the latest iteration looks more dangerous considering the fact that the security hole targets users to phishing websites that are designed to suck out users' personal data.
According to Cheetah Mobile, Facebook users numbering in excess of 10,000 (irrespective of geographical locations) could be affected by the latest scam.
Is there a way to combat 'Facebook Color Changer'?
Yes, there is a way out. "Luckily there is a solution for users who have been already infected and users who are looking to proactively protect themselves from this scam and others like it. ".
According to security experts at Cheetah Mobile, users who have been redirected to the tutorial video by the malicious 'Facebook Color Change' app should change their Facebook account passwords on an immediate basis.
Both mobile and PC FB users are advised to uninstall the 'Facebook Color Change' app as soon as possible, from their profiles, by navigating to the app settings section.
Users can also use various third-party applications and security mechanisms, to scan and rid their devices of 'Facebook Color Scam'.