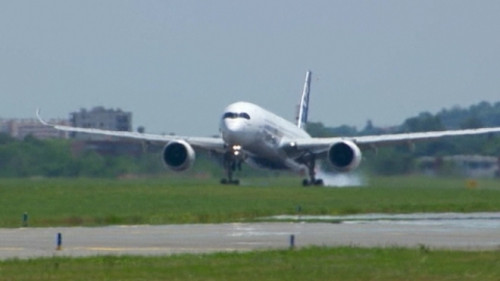 European aircraft manufacturer Airbus said it has beaten US rival Boeing in terms of market share, after having achieved record deliveries and orders in 2013.
At 2013 year end, Airbus commanded 51% gross market share in aircraft category above 100 seats.
Airbus also said it regained the top spot in commercial orders with an industry record of 1,619 aircraft, beating its previous best by 11. Adjusting for cancellations, Airbus's commercial aircraft orders increased by 80% to 1,503 in 2013.
Boeing earlier reported gross commercial orders of 1,531 and net orders of 1,355.
Meanwhile, Boeing overtook Airbus in terms of plane deliveries. Its deliveries increased by 7.8% in 2013 to 648, beating Airbus' record 626.
At the end of 2013, Airbus has a record backlog of 5,559 aircraft valued at $809bn (£492bn, €592bn) at list prices or eight years of production, compared to Boeing's 5,080.
'More Agile'
The company has transformed to a more agile company in 2013, according to Airbus. In addition, it tested its flagship A350 XWB model for the first time in the same year. The model is the direct competitor of Boeing's Dreamliner that suffered serious battery issues last year.
Airbus noted that test flights of A350 XWB are progressing well and it targets certification in the third quarter and service entry in the fourth quarter.
"The transformation of our company into a simpler, more agile and faster one is clearly taking shape. We are producing aircraft at all-time-highs and selling our market leading products at record levels," Fabrice Bregier, Airbus president and CEO, said in a statement.
"These benchmark results are feeding nicely into our profitability targets, and I am proud to report that the trajectory is showing strongly upwards. To expand our leadership in single aisles and widebodies, 2014 will be significant with the first flight of the A320neo and the Entry Into Service of the A350 XWB."
Upbeat Aircraft Industry
Having achieved record orders, Boeing and Airbus are getting ready for 2014 and looking to increase their deliveries which provide the bulk of the revenue from aeroplane sales.
"In 2014, there will be further improvements in our global competitiveness, efficiency and effectiveness. The focus also will be on incremental innovation that is simpler, less risky, less costly and comes faster to market," Bregier said.