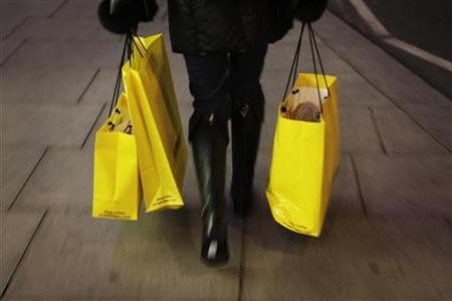 Over half of British women find shopping more pleasurable than sex, a new survey has revealed.
According to a study commissioned by TLC's new TV series, Ultimate Shopper, 55 % of women in the UK would prefer to spend their time scouring the high-street rather than getting frisky between the sheets.
The survey also revealed that for 11%, retail therapy always trumps love-making regardless of the circumstances.
Ultimate Shopper host Holly Valance said: "For many of us ladies, a great day out at the shops is the ultimate indulgent guilty pleasure.
"The odd impulse buy that never gets worn is a small price to pay given how much satisfaction a spot of retail therapy can give."
Researchers also claimed that the average woman thinks about shopping six times a week compared with four times a week spent indulging in sexy thoughts.
But while the survey confirmed that women love to shop it also revealed that their passion for fashion also resulted in a significant amount of squandered cash and unworn garments.
Out of the 2,000 women polled, nine percent admitted that 30% of the items they buy are never used or worn.
Accessories were the most wasted with over a third of women confessing to owning at least three pairs of shoes they have never worn while nearly a fifth have at least three unused handbags gathering dust.
The insatiable desire for new products means that one in ten of those purchases will never be worn resulting in an average of almost £700 worth of unworn items sitting in women's closets.