Morgan Freeman's step-granddaughter was stabbed to death on a Manhattan sidewalk early on Sunday (16 August) morning, it has been reported.
E'Dena Hines, 33, was found unresponsive with stab wounds to her torso outside a building in the Washington Heights area of New York City just before 3:00 a.m.
According to The New York Post her ex-boyfriend was standing over her body screaming when police arrived at the scene.
Witness Brydon Tarafa, 28, told Dailymail.com that he heard the suspect shouting "Jesus Christ is born".
"I heard the man yelling 'Jesus Christ is born', like yelling, screaming maniacally,"' Tarafa said. "And I heard a woman scream shortly before that."
When police arrived they found E'Dena Hines, 33, unresponsive with stab wounds to her torso outside an apartment building close to her home in the Washington Heights area of New York City just before 3am.
George Hudacko, 65, who witnessed the attack from his window in Washington Heights and called 911, said he heard the man shouting: "Get out, devils! I cast you out, devils! In the name of Jesus Christ, I cast you out!"
The man was arrested and taken to Columbia Presbyterian Hospital for psychiatric evaluation. A knife was recovered at the scene. E'Dena Hines was pronounced dead at Harlem Hospital
Police have not yet confirmed whether the man is facing any charges for the killing.
Freeman has issued a statement paying his emotional tribute to the aspiring actress.
He said: "The world will never know her artistry and talent, and how much she had to offer. Her star will continue to shine bright in our hearts, thoughts and prayers. May she rest in peace."
An actor and writer, Hines was living in New York City where she studied at New York University's Graduate Acting Program. She is the granddaughter of Freeman's first wife Jeanette Adair Bradshaw and has been referred to as Freeman's goddaughter in addition to his step-granddaughter.
In 2012, the relationship came under scrutiny following rumours that Freeman planning on marrying the aspiring actress and that they were in a romantic relationship for 10 years prior.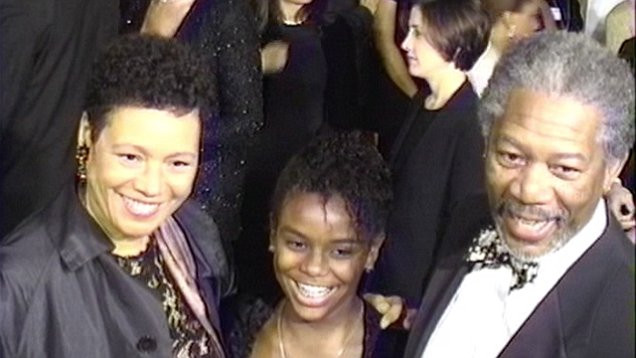 The Oscar winning actor vehemently denied the false reports stating: "The recent reports of any pending marriage or romantic relationship of me to anyone are defamatory fabrications from the tabloid media designed to sell papers. What is even more alarming is that these fabrications are now being picked up by the legitimate press as well."
E' Dena also issued a statement at the time adding: "These stories about me and my grandfather are not only untrue, they are also hurtful to me and my family."
Freeman was married to Jeanette Adair Bradshaw from 1967 until 1979. A prolific actor he received Academy Award nominations for his performances in Street Smart, Driving Miss Daisy, The Shawshank Redemption and Invictus, and won the Best Supporting Actor Oscar in 2005 for Million Dollar Baby.
The investigation into Hines' death is ongoing.